A RIBA exhibition on the development of the No 1 Poultry site in the City of London has some fascinating insights into ambition, fashion and politics says Amanda Baillieu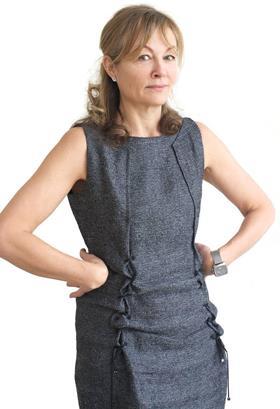 My favourite item in the RIBA's new exhibition 'Circling the Square' about Mies van der Rohe's unrealised Mansion House Square project and James Stirling's Number One Poultry is the architectural historian Gavin Stamp's letter to Margaret Thatcher.
Thatcher had met Stamp at the annual Spectator lunch in April '85 and had her ear bent by the critic.
Stamp was concerned the Prime Minister might overrule her environment secretary, Patrick Jenkin's decision to reject the Mies scheme." I am afraid I rather went on about Architecture", he writes, before landing his punch.
"Mr Palumbo's controversial proposals are extraordinarily reactionary not only, but least because his architect is a 99-year old German from another age who is dead".
Many agreed with Stamp that the Mies scheme would indeed be a grave mistake.
Philip Johnson writing to Stamp said London deserved better than a 'son of Seagram" and pointed out that Mies's buildings were always placed in a straight street and their classical rigidity would look odd in the City of London. Jenkin rejected the Mansion House Square in May 1985.Thatcher did not intervene but as an accompanying publication points out, deregulating the City's financial services had a far greater impact on what would be built in the City in the following years.
The exhibition is full of insights. Interviewed for the Omnibus programme, the great and good of architecture including the then president of the RIBA Michael Manser are aghast anyone would want to retain the eight listed buildings of which Belcher's Mappin & Webb building was the star.
Richard Rogers comment that "there are no buildings worth saving" on the site, reveals not just how far our approach to the past has changed but how fiercely such change was resisted by the architectural establishment: plus ça change.
Today the most likely outcome for the site would probably have been a vote for Terry Farrell's sensitive re-adaption, retaining all the buildings to provide new shops, offices and public space. Commissioned by Save, his scheme was an approach to development the architect then applied at the Comyn Ching Triangle in Covent Garden a year or so later.
Of course, all buildings have a good backstory. Yet we rarely get to hear about the interrelationships between clients, media and politicians, between those who thwart or promote architects' designs, unsurprising perhaps to those who know how the system works but a revelation to most people.
But press clippings, letters from and to clients, (and nowadays Tweets and other short-form thoughts), 'alternative' schemes commissioned by campaigners are just as integral to a building's narrative as the drawings, models and sketches.
They are also one of the few ways for a curator to bring a difficult subject alive for a non-professional audience – something that remains a challenge because of the over-reliance on plans, sections, elevations and models to tell a story. An architect's archive is essential as an insight into the creative process, but it doesn't make for an engaging exhibition or help explain why cities look the way they do.
Gavin Stamp's letter to Thatcher, Stirling's draft letter resigning his RIBA Gold Medal (it was never sent) and Lubetkin's to BD, blaming the press for turning public opinion against modern development are not more important than Mies's models or Stirling's drawings but together they provide the essential backstory so often absent from our understanding of great architecture.
Postscript
Circling the Square is at the RIBA until June 25th