Architect offers to come out of retirement to design sympathetic over-station scheme
The original project architect of Southwark Tube station has backed the Twentieth Century Society's attempt to overturn Historic England's decision not to list it.
Ian Logan said the 1999 station deserved to be protected, "if only to make any changes more accountable".
The C20 Society revealed this week that it is appealing against government heritage adviser HE's decision not to list the station.
Transport for London and developer U+I are said to be drawing up plans with AHMM for a 30-storey tower on the site. The station was originally designed to bear the load of future development, but only up to about 11 storeys.
Richard MacCormac's practice, MJP, designed two proposals, one flats and one a hotel (see accompanying images), but consent has since lapsed.
Logan, who worked for MJP from 1982-1999 and then founded Studiodare, has offered to come out of semi-retirement to help AHMM design a suitable over-station development.
In an open letter to BD (below) he said some of his former colleagues now worked for AHMM.
"I am not against development and change if necessary, and if the station does indeed absolutely need a bigger ticket hall, this should be looked at sympathetically and creatively," he said.
The current boss of MJP Architects wants the developer to be forced to reconstruct the ticket hall as a planning condition.
Ian Logan's open letter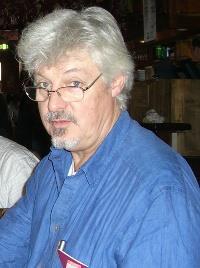 Were Richard MacCormac and Roland Paoletti here (sadly no longer with us), you would get an impassioned and literate plea for Southwark station but, as I am still here, it falls on me to comment on the proposal for the station.
I led the MJP team for almost 10 years, from early design all the way through to working drawings and construction (also providing a site architectural team for the entire construction period) so I have a pretty personal take on matters concerning Southwark and the stories behind the project.
We always intended that there should be an "over-station" development. Many, many Underground stations in central London are simply "entrances" to a subterranean world, subsumed in a commercial building, so that would be right and proper. The entrance to the station acknowledges this reality. The massive concrete portico was designed to "protect" the entrance while an "over-station" was being constructed and still provide clear sight of the entrance from four directions.
Deyan Sudjic once described MJP as "romantic pragmatists" and the design for Southwark was certainly that. We inherited a site way too small and constrained to allow full escalator travel from platform to surface – hence the basement ticket hall (and lifts). But the immovable positioning, line and level of the running tracks and platforms underneath the brick railway viaducts (I assume that this British Rail-owned land had no commercial value and was therefore cheap) led to the configuration of the different concourses and connections which pragmatically gives the station its character.
We were way down the "pecking order" at LUL whose projections for future passenger numbers were very low (how things have changed on Blackfriars Road since then) hence little support for our concerns. I recall that Roland (who had a Scots upbringing) always referred to our "very nice wee station", compared to the vast boxes of Sir Norm and darling Will.
We did in fact put in a substructure around the main ticket hall which would accommodate a 10- to 12-storey building (or even taller if residential). This was designed to allow the ticket hall to be untouched and fully functioning and these piles are still there, but clearly can't look at 30 floors! Certainly Southwark planners have embraced tall buildings recently, but in 1994 we were advised that the limit was Will's building across the road.
The bottom line here surely must be that circumstances have indeed changed but we must hope that any "change" will be sensitive, appropriate and necessary. I am aware that a couple of my MJP team who worked on Southwark are at AHMM nowadays so I hope that whatever happens is done with respect for the original project.
I do think, however, that the station should be "listed" if only to make any changes more accountable with a further controlling body.
I recall that prior to the opening of the station, the intermediate concourse (blue glass wall) was used by English Heritage as the venue for their annual presentation and Chris Smith talked about the certainty of future listing. Ah well!
I do hope that things can be resolved positively without nonsense all round.
I would be very happy to come out of retirement to assist – because, for the last 18 years, I have been asked many times: "When am I going to finish my station?"
I have purposely not commented on the AHMM scheme as I have only seen one image, but that area around Blackfriars Road now seems fair game for overly large commercial developments.
Ian Logan