Commitment could mean hope for Vauxhall bus station and other buildings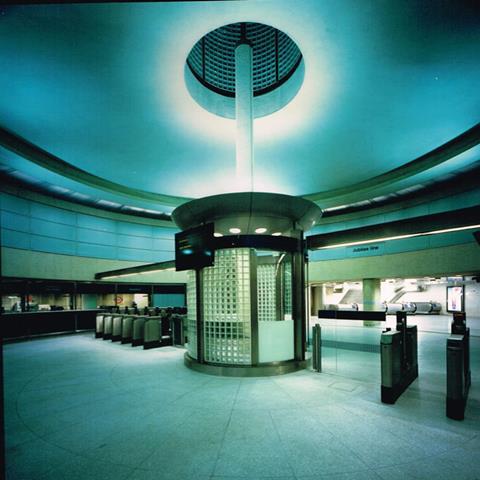 Transport for London has promised to consult the original architects of all its stations before redeveloping them, spelling hope for the celebrated Jubilee line extension (JLE) stations in particular, and possibly Arup Associates' Vauxhall bus station.
TfL's commercial development director, Graeme Craig, said he was happy to make the commitment.
He was responding to comments by Will Alsop at an event held by Save Britain's Heritage which brought together the JLE architects, Historic England and TfL as part of a campaign to have all the stations listed.
The historic debate was triggered by the particular threat to Richard MacCormac's Southwark Tube station which has ended in victory after a flurry of publicity.
BD can reveal that AHMM has been commissioned by TfL to design an over-station scheme for the site which can be supported by the existing piling. This is likely to be about 12 storeys, as envisaged by MacCormac when he designed the station in the early 1990s.
AHMM was previously working on a 30-storey block of flats for the site whose weight would have necessitated the demolition and rebuilding of the circular ticket hall, sparking outrage in the profession.
Will Alsop, architect of North Greenwich station, said Britain should imitate France where developers must by law consult the original architects of publicly funded projects before proposing major changes.
"Why don't you just list them all?" he added, backing the campaign to get Historic England to thematically review all the JLE stations.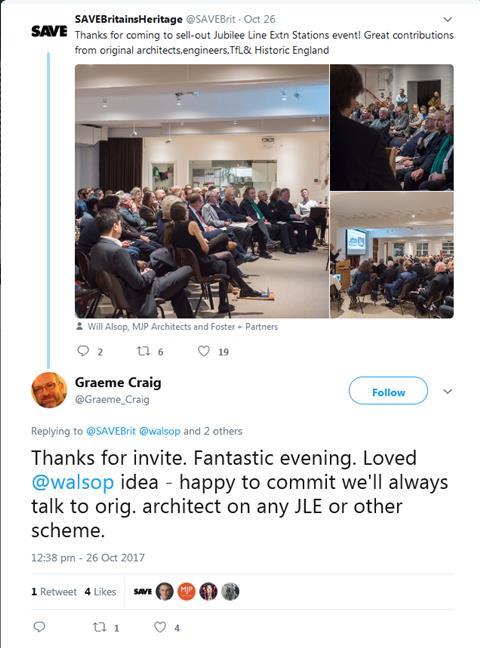 TfL's Craig agreed it made sense to "always try to speak to the original architects when we're considering any development of an existing station" and later tweeted: "Fantastic evening. Loved @walsop idea – happy to commit we'll always talk to orig. architect on any JLE or other scheme."
Mike Ashwood, London Underground heritage manager, added that TfL recognised the JLE stations were hugely significant and part of their brand and identity. It was a constant challenge that they recognised and had to rise to, he said.
Henrietta Billings, director of Save, said Southwark's reprieve was great news.
"It's a major improvement because it means the integrity and beauty of that special rotunda entrance will be retained," she said.
It could potentially be good news for other celebrated buildings owned by TfL including Arup Associates' 12-year-old Vauxhall bus station. TfL is planning to submit plans this year for a new gyratory system which would very likely flatten the existing "ski jump" building.
Craig said: "We don't have a specific plan for Vauxhall bus station, but if / when we do, I'd be happy that we speak to the original architect."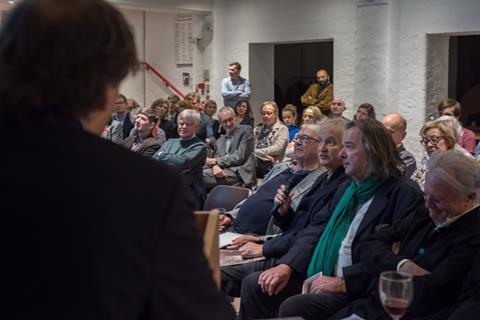 The event included presentations by Michael Hopkins on Westminster station, Ian Ritchie on Bermondsey and Will Alsop on North Greenwich. Guests included the widow of Roland Paoletti who was TfL's head of design and the driving force behind the architecturally ambitious JLE project.
Backing calls for an assessment of all the stations on the line by Historic England, Ken Powell, author of The Jubilee Line Extension, said: "The Jubilee line stations are the greatest public project for the last 100 years."