Acanthus LW's second entrance would enable redevelopment above MacCormac's main hall
Transport for London has revealed proposals for a second entrance at Southwark Tube station in a move that it says is designed to cope with steadily increasing passenger numbers.
The plans, created for the mayoral transport body by project architect Acanthus LW, would also aid the construction of a new building above Richard MacCormac's celebrated main entrance to the station, completed in 1999.
TfL said around 17m passengers a year currently passed through Southwark's ticket gates, with the figure expected to rise by about 40% over the next two decades.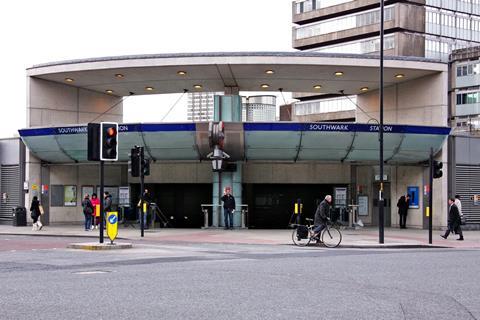 It said that the proposed new entrance, on Greet Street, would ensure the station was able to manage any future increases in passenger numbers and relieve pressure on the existing entrance. Acanthus' plans for the entrance also include a planted roof and a community space.
But TfL also conceded that creating a second entrance for Southwark station would allow it to remain open during the construction of a new building above MacCormac's main entrance.
While the station entrance – influenced by Holden, Schinkel, Aalto and Soane – was always designed to be built above, proposals for a 30-storey residential tower created by AHMM would have required its demolition because the existing structure would not have been able to support such a tower.
TfL's consultation on the new entrance proposals suggest the most likely contender for over-station development at Southwark is an "office, retail, cultural space and new public realm" development of around 15,000sq m.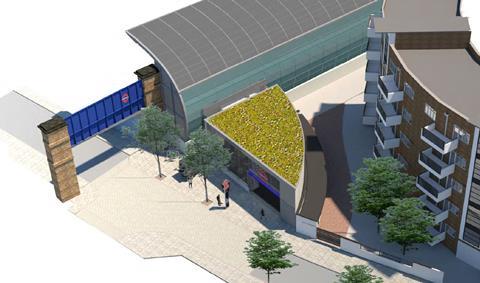 As BD reported last year, such a scheme would potentially be supportable by the existing station and would likely be of a similar height to Will Alsop's Palestra building, which is immediately opposite the main station entrance.
TfL's consultation documents for the new entrance note that the second entrance three blocks away would allow passengers to continue using Southwark station while work was ongoing on the new building.
"During construction works for this office space, it may be necessary to temporarily close the main entrance to passengers," it said. "A second entrance would also enable the station to remain open at all times."
Acanthus LW said its proposals, earmarked for land TfL already owns, had deliberately pointed the building's entrance away from nearby homes – the modernist Tait & Benson flats which were named after former archbishops of Canterbury – following feedback from residents.
"The entrance is designed to complement the distinctive architecture of Richard MacCormac's Southwark station and the Jubilee Line Extension presenting itself as a confident stand-alone structure using a distinctive palette of materials including exposed concrete, terrazzo, stainless steel and glass," it said.
Acanthus LW's proposals for Southwark station will be on display at the Palestra building, on Blackfriars Road, from 10am to 4pm tomorrow. A second consultation event takes place on Friday October 5 from 10am to 4pm.
A previous application for the site, for a simple flight of stairs descending nito the station, was withdrawn in 2009.
TfL said it intended to submit a planning application for the new entrance before the end of the year.