'It doesn't happen in a wealthy neighbourhood'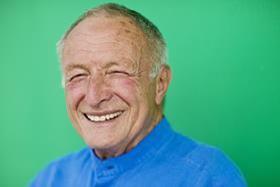 The Grenfell Tower fire was a result of inequality in Britain, Richard Rogers has said.
The nation's attention should be on eradicating "slum" housing not on arguing about whether or not to build more towers, the 84-year-old peer told Radio 4's Today programme
"[A fatal fire] doesn't happen if you live in a wealthy neighbourhood; in a tower which was properly built," he said in an interview coinciding with the publication of his new book, A Place for All People.
"The poor as usual suffer. That's the main problem. Of course there was a technical problem but the technical problems usually happen when one's trying to cut corners.
"We know we can't have this sort of inequality. If you live in a slum it's not a nice thing. Slums brutalise, while beautiful environments humanise, in simple terms."
Asked whether scarcity of land meant we had to build social housing as towers, he said: "Land is not scarce. We still have enough room in London. It's not a question of high or low, it's a question of quality."
It was also a question of function, he said, with old people and students better-suited to high-rise living than families.
Meanwhile, in another interview to promote his book, Rogers was asked by Channel 4's Jon Snow why a socialist designed Britain's most expensive flats – One Hyde Park – and yet had designed relatively little social housing.
Rogers said: "I know of no architect who builds only for the poor. I would be delighted if I did. You can do a little bit. Maybe we can do more than we already have."
He said inequality "undermines anything which allows one to spend a little bit more money on those who really need it".
"The way the government has done it is to say to half a dozen big housebuilders who have built a vast amount of housing, 'You take over, you plan it'," he said.
"Housebuilding is about the bottom line – what's the maximum profit? Demand is very important to them.
"That's why we have some of the world's most expensive housing."
We have replaced gold bars with empty houses as an investment vehicle, he added.