Current system 'not fit for purpose' for high-rise and complex buildings', says Judith Hackitt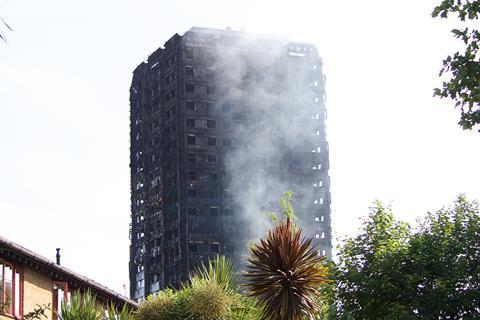 The interim Hackitt report has slammed the current regulatory system as "not fit for purpose in relation to high-rise and complex buildings".
The Building a Safer Future – Independent Review of Building Regulations and Fire Safety: Interim Report, which was undertaken by Dame Judith Hackitt, revealed that "there is a clear need for a full overhaul of the regulatory system to address the wide-ranging issues outlined."
The report, which was commissioned following this summer's Grenfell fire, states that it was evident very early in the process that there was "a need for significant improvement in the current system in a number of areas."
These include: regulation and guidance, roles and responsibilities, competence, process, compliance and enforcement; residents' voice and raising concerns, as well as quality assurance and products.
Hackitt labelled the current regulation and guidance as "both complex and unclear", and declared the "clarity of roles and responsibilities within the system is poor".
She said the construction industry, building owners, regulators and government had to work together to address the shortcomings identified so far.
She added: "I have found that the regulatory system for safely designing, constructing and managing buildings is not fit for purpose. The current system is highly complex and there is confusion about the roles and responsibilities at each stage. In many areas there is a lack of competence and accreditation.
"While this does not mean all buildings are unsafe, it does mean we need to build a more effective system for the future. That is why I am today calling for the construction industry, building owners, regulators and government to come together to identify how to overcome these shortcomings together.
The competency of those involved in the design, construction, ongoing operational management and maintenance of complex and high-risk buildings was also called into question.
The report states: "The means of assessing and ensuring appropriate levels of competence throughout the system are unclear and inadequate." And it said that the testing, marketing and quality assurance of products used in construction need to improve.
The enforcement and sanction measures were also labelled as poor and not providing adequate means of compliance assurance, deterrence or redress for non-compliance.
It also found the route for residents' concerns to be raised and addressed was unclear and inadequate, while classing the current methods for testing, certification and marketing of construction products and systems as unclear.
Moving forward, the second phase of the report, which is set to be released in spring 2018, will focus on defining a revised regulatory system which will be "simpler, clearer to all involved and deliver better overall outcomes".
A summit involving government and representatives from the building industry will take place in the New Year ahead of the final report's publication..
The independent report was commissioned in August, in the wake of June's Grenfell Tower tragedy, where 71 people lost their lives.
Suzannah Nichol, chief executive of Build UK, said: "The interim report of the independent review rightly identifies the need for wholesale change across building regulations alongside much-needed cultural change within the industry. A focus on clarifying roles and responsibilities across a buildings life cycle, ensuring competence of individuals and examining product testing and marketing reflect the industry's views. The construction industry stands ready to support the design and implementation of a regulatory regime fit for the future."
Interim report's main findings
A culture change is required - with industry taking greater responsibility for what is built. This change needs to start now
The current system for ensuring fire safety in high-rise buildings is not fit for purpose
A clear, quick and effective route for residents to raise concerns, and be listened to, must be created
Six areas that need change
Ensuring that regulation and guidance is risk-based, proportionate and unambiguous
Clarifying roles and responsibilities for ensuring that buildings are safe
Improving levels of competence within the industry
Improving the process, compliance and enforcement of regulations
Creating a clear, quick and effective route for residents' voices to be heard and listened to
Improving testing, marketing and quality assurance of products used in construction