Planners approve proposals for double-height workshop and rehearsal space at East Sussex opera centre
Nicholas Hare Architects' proposals for a state-of-the-art production hub at Glyndebourne Opera House have won the backing of South Downs National Park Authority planners.
The new buildings will include a double-height assembly workshop for prop-making, a rehearsal room, practice rooms and a central tea-room for the centre, near the East Sussex town of Lewes.
Nicholas Hare said the hub had been designed to achieve a Breeam "excellent" rating, and would be Glyndebourne's biggest capital investment since the rebuilding of the opera house in 1994.
The practice's proposals for the hub place the double-height workshop at the centre of the building and ranges the other spaces around it, with the props and carpentry department on the ground floor and the costume department, rehearsal space and tea room on the first floor.
It said the arrangement gave the building a "strong sense of internal identity" and made it easy for staff to orientate themselves within it.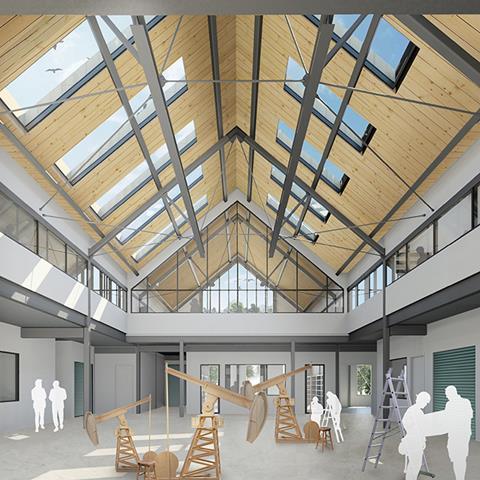 Glyndebourne Productions executive chairman Gus Christie said the hub would unite the centre's "making departments" under one roof and give them world-class facilities in which to work.
"Not only will this help us achieve the highest possible artistic standards, but it will also ensure we continue to attract the best expert staff," he said.
The Glyndebourne Festival has been a feature of the opera calendar since 1934, but the event and the opera house's expanding programme outgrew its original home.
Hopkins Architects designed its £30m replacement, which can accommodate an audience of 1,200 in the shadow of Glyndebourne House.