Bloomsbury Theatre to reopen for 50th anniversary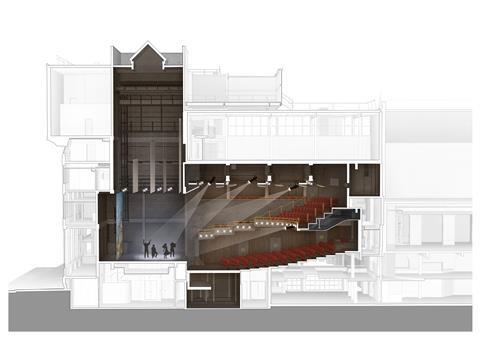 Nicholas Hare Architects has been appointed to overhaul and renew James Cubitt & Partners' 1968 Bloomsbury Theatre opposite the Bartlett.
University College London (UCL) appointed the architect to completely refurbish the brick and concrete theatre's 550-seat auditorium, which hosts student and commercial shows.
New technical and services infrastructure will be installed to allow the theatre to stage a wider variety of productions.
The project cost was not disclosed. Construction is expected to start later this year, with the theatre due to reopen in autumn 2018.
"The theatre, which prior to closure had gained a reputation in many fields, will celebrate its 50th year by unveiling an expertly restored, significantly upgraded venue," said a spokesman for UCL.
"This cutting-edge revamp will give student societies and productions the full benefits of a 21st-century theatre and create the opportunity for collaboration between academics, artists, performers, directors and companies."
James Eades, a partner at Nicholas Hare Architects, described it as "an ideal opportunity" for the practice to combine working with a tricky existing building and a "forward-thinking" client while expanding its experience of theatre projects.
It has previously worked at Sadler's Wells, on the Royal Opera House's production workshop and costume centre at Thurrock and on a number of school theatres.