Western Sydney International Airport will be built in Parkland City region
Zaha Hadid Architects has beaten Fosters and Rogers Stirk Harbour & Partners to land the job of designing a new airport in Australia.
The UK practice teamed up with local firm Cox Architecture to bid the £3bn Western Sydney Airport project. They have now been appointed master architect.
More than 40 architectural teams tendered and five were shortlisted in the summer. International practices were expected to partner with a local firm.
The finalists were: Design Inc with Foster & Partners; Architectus, Gensler, SAA and Surbana Jurong; Cox with Zaha Hadid Architects; Woods Bagot with RSHP; and Hassell with Pascall & Watson.
The brief demanded that entrants must have designed at least three major aviation projects in the last 10 years. They were also required to involve university students in the design process.
ZHA has designed Beijing Daxing International Airport and Navi Mumbai International Airport. Cox has worked at Sydney, Melbourne and Canberra airports.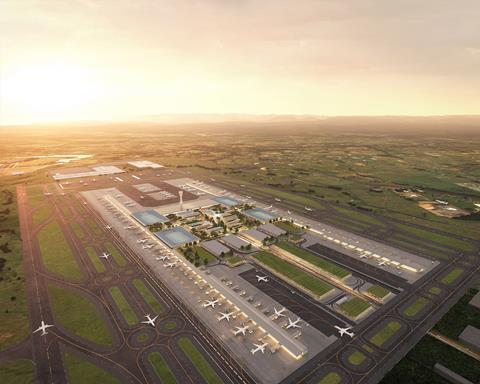 The Western Sydney International (Nancy-Bird Walton) Airport, named after the youngest Australian woman to gain her pilot's licence in the 1930s, is planned for a greenfield site in Sydney's emerging western Parkland City region.
After the original Harbour City on the coast and the River City around Paramatta, the Parkland City is intended to become Sydney's third urban hub, stimulating the city's western expansion over the coming decades, as the population of the greater metropolitan area is set to reach 9 million by 2040.
The airport will be built in four stages, beginning in 2022. The first stage is due to open in 2026 with a capacity of 10 million passengers a year. By 2060, when it will be capable of handling 82 million passengers annually, it should be the largest international gateway to Australia.
ZHA and Cox will provide an overarching design for the entire airport precinct including design guidelines for future expansion. At the same time, the team will prepare the design documents for the execution of the first phase of the new terminal precinct.
ZHA project director and associate director Cristiano Ceccato called it an "amazing project".
"The design is an evolution of Australian architecture past, present and future," he said. "It draws inspiration from both traditional architectural features such as the veranda, as well as the natural beauty of the surrounding bushland."
Cox project director David Holm added: "The design takes inspiration from the unique local flora of Western Sydney and its unique natural qualities, such as the Great Australian Light. These spaces, colours and materials have been incorporated into the design to give the project an unmistakable regional identity."