Work at former King's Reach Tower is architect's first resi refurb scheme
Zaha Hadid Architects has been appointed to its first residential refurbishment project.
The architect is to create a 200sq m lobby in the Southbank Tower, the new name for Richard Seifert's 1972 King's Reach Tower.
The London landmark underwent a major transformation in 2016 when KPF added 11 storeys to its existing 30 and converted it into flats.
ZHA said its lobby design was inspired by the organic forms of flower petals which overlap to conceal the lighting. They also house the concierge on the ground floor, before peeling back at the top to reveal a new mezzanine level which serves as a lounge for residents and guests.
The petals will be made from glass-fibre-reinforced gypsum while the furniture is marble and will be created in an off-site studio using 3D digital fabrication to minimise disruption.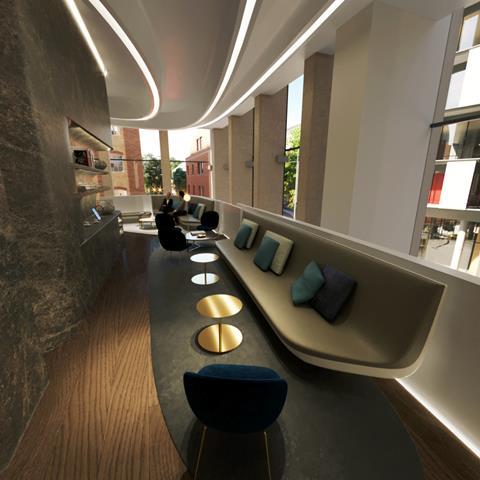 The work, for an unnamed private investor which bought 37 apartments in the tower last year, is set to start early next year and finish in the summer.
ZHA project director Helmut Kinzler said the colours and materials were informed by the existing building, matching polished marble and concrete with walnut and leather.
He added: "The design has evolved from our work reinventing the spaces of art museums and galleries around the world; creating immersive spatial experiences for the Southbank Tower's lobby that enhance the materiality and volumes of the original structure."
Others working on the scheme include cost consultant MEA, structural engineer AKT II - which worked on the KPF extension - and M&E engineer Sweco.