Practice's international college offers 'home from home' for overseas students
Walters & Cohen Architects has taken the wraps off the practice's three-storey international college building, designed for The King's School in Canterbury.
The weathered concrete and glass structure provides boarding accommodation for 80 pupils at the independent school, as well as several flats for staff and specialist teaching facilities – including traditional learning space, digital facilities and discussion space.
The King's School, which counts Elizabethan playwright Christopher Marlowe, author Michael Morpurgo, cricketer David Gower and actor Orlando Bloom among its past pupils, commissioned Walters & Cohen to carry out a feasibility study for the project in 2016.
Its proposals, on a former industrial site, won consent from Canterbury council's planning committee the following year.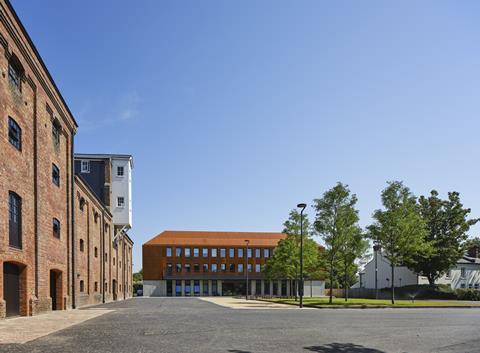 Practice director Cindy Walters said the block had been designed as a stepping stone for 11- to 16-year-old pupils entering the UK school system from abroad.
"Many of the facilities act as a home from home for the students, so we needed to create spaces where they could live, study and socialise as comfortably as possible," she said.
"As an international college, communal spaces where students can meet and interact with their fellow students are very important, which is why we designed the building to wrap around a central courtyard space, with corridors that look out on to it.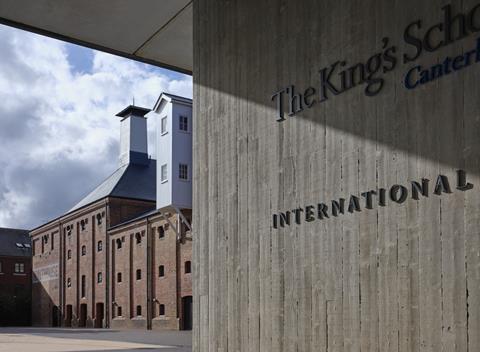 "Many of the students gather here as a meeting place and use it for open-air presentations, plays and recitals. It is a joy to see."
In addition to the international college, Walters & Cohen has designed a new "day house" for The King's School in Canterbury and an outpost for the school in Shenzen, China.
The King's School currently charges £12,985 a term for boarders and from £8,250 a term for day pupils.