I want to see talent, meticulousness and an eye for the unexpected, says chief executive
Urban & Civic is on the look-out for fresh young architectural talent, the developer's chief executive has said.
Nigel Hugill said he welcomes direct approaches but also keeps an eye on the design press and visits architecture schools and studios with his colleagues, scouting names for his list of names to watch.
"No one is allowed to make an architectural appointment without me – it's very specifically my responsibility," he told Building Design. "We care very much about good design."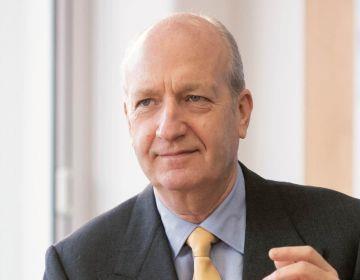 Urban & Civic, founded by Hugill and Robin Butler in 2009, buys up large sites and licenses plots to housebuilders, using its master developer model and design codes to deliver thousands of homes.
At each site it also appoints architects directly to design the schemes' schools, offices and other commercial and community buildings, wanting "bespoke civic buildings".
"I would imagine that we are building more schools currently than even the largest individual educational authorities," said Hugill.
Speaking at Urban & Civic's Alconbury Weald site in Cambridgeshire, he admitted that most of the amenities at the former airfield had been designed by one architect – AHMM.
Other practices used by the firm include Wilkinson Eyre, dRMM, van Heyningen and Haward Architects, Gollifer Langston and Juice.
Hugill said: "In our defence we don't normally go for the biggest practices. AHMM was a tiny practice when we first started working together. Simon Allford, Chris Wilkinson – we have grown up together.
"For me now, part of the privilege of the position we are in is how we encourage the next generation.
"They are welcome to approach me but I also keep a watch. I try to follow some young architects. We are quite avid building visitors. We go to quite a lot of architects' studios – not all in London by any means – because you can judge things when you go to an office. Before covid we were building watchers and office attenders."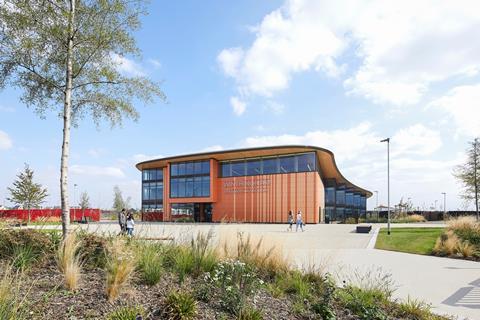 Hugill gained a reputation among architects as an enlightened client when as managing director of Chelsfield in 2002 he picked AHMM for the Stirling-shortlisted Westminster Academy, giving it a brief to "design the best school in the country".
Later at Lendlease he influenced the selection of architects at the London Olympic Athletes' Village and commissioned AHMM to design Chobham Academy, earning him Building Design's Client of the Year gong in 2008.
A former trustee of the Architecture Foundation, he also chaired the LSE's estates department for a decade. The university has shortlisted consistently starry firms for its new buildings, appointing O'Donnell & Tuomey to design the Saw Swee Hock Student Centre and RSHP to the recently completed Centre Building.
"The UK is blessed with wonderful architects so how you arbitrate is never easy," said Hugill. "We sometimes have competitions but they can be a bit invidious.
"If I was summarising what I look for in an architect it would be talent, meticulousness and an eye for the unexpected, as well as the detail," he added. "A little like the Paul Smith approach to fashion; an unerring pursuit of quality with a design twist."