Government figures come despite pledge by housing secretary that works should continue
Work stopped on more than two thirds of the buildings where the remediation of ACM cladding is required after the imposition of lockdown, according to official figures.
The housing ministry's April building safety update, said work was paused on 68% of projects during April.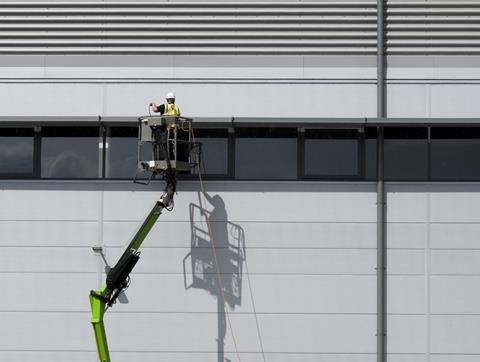 It said of the 97 projects where an update was received, works were paused at 52 of these as of 30 April.
Of the 45 projects where work was continuing at the end of last month, 14 had restarted after an initial pause in works.
The update also revealed that there are 149 high-rise residential and publicly owned buildings in England that have completed remediation works to remove and replace ACM cladding systems – an increase of five since the end of March.
The figures come after housing secretary Robert Jenrick last month brought local government leaders together to sign a pledge to ensure that ACM remediation works continue despite the coronavirus lockdown.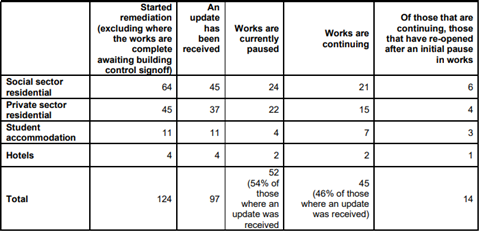 There are 307 high-rise residential and publicly owned buildings with cladding unlikely to meet building regulations yet to be remediated in England, 56 of which have had their ACM cladding systems removed.
Of the 82 social sector residential buildings with ACM cladding systems unlikely to meet Building Regulations yet to be remediated, 73 have started remediation, while nine have a plan in place but works have not started.
Of the 180 private sector residential buildings with ACM that are yet to be remediated 49 have started remediation, 90 have a remediation plan in place but works have not started and 40 have responded with an intent to remediate and are developing plans. There is one project that has unclear remediation plans, the data added.
Last week PRP senior partner Brendan Kilpatrick said the practice's fire remediation work had continued on site throughout lockdown.
"Although the workforce was reduced they are projects that very much need to carry on because those buildings are unsafe and they are now fully occupied 24 hours a day," he said. Visits might have involved visual inspections rather than climbing scaffolding.
He said a number of their other projects had been paused during lockdown but were now beginning to reopen.