Figures from across architecture pay tribute to Michael Hopkins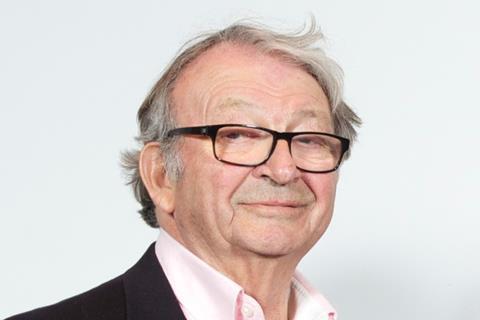 Figures from across architecture have been paying tribute to Sir Michael Hopkins, who has died aged 88.
His wife and business partner Patty Hopkins said: "Michael was obsessive about architecture and tenacious in refining a design until he was absolutely satisfied with it. He was usually (and annoyingly) right. He made the world - and the buildings so many people live, work and learn in - more beautiful. We will miss him more than we can imagine."
RIBA president Simon Allford said: "Michael was one of the great architects of our time. His honours and accolades – including the 1994 RIBA Royal Gold Medal presented to him and Patty Hopkins - are testament to his talent and the strength of their equal partnership in work and life.
"Hopkins Architects as a practice was, and importantly still is, held in global esteem by architects and critics around the world, and across many generations. Michael himself was an inspiration to the many who followed Patty and him in their practice and beyond. He encouraged them to push the envelope in every sense, and to think differently about how architecture should engage with the world.
"Michael's work referenced history whilst challenging conventions. He himself had a very clear take on his own work. He once confided in me that he had learned all he needed to know of architecture from working with Patty on the project to repurpose their Cruck Barn as a family home. I was struck then, as I am now, by how much this revealed of their practice of architecture. Whether they were working with the materials associated now with 'High-Tech' (the vernacular of the latter part of the twentieth century), or later, with the more ancient materials of brick, timber and concrete, Hopkins Architects were always, regardless of material palette, pursuing an architecture of clarity and legibility. An architecture of structure and infill - solid and void, light and heavy, and people and machinery. An architecture that was always generous and open to an unknown future.
"Their early adoption of energy efficient design demonstrated a progressive outlook that was ahead of its time. Their many important projects still stand as both markers of a moment and pointers to the future. Their office was a place of extraordinary talent and creative energy, but this energy was always channelled towards a clear expression of both architectural idea and ideal.
"The list of outstanding projects is long. My personal favourites include their own home, which I admired as a schoolboy. I visited the Schlumberger Cambridge Research Centre as a student forty years ago - to witness it in construction - and returned a few years ago with Michael and Patty. The Mound Stand at Lord's references both, whilst moving things on, in a brilliant essay in reinvention and re-use. And Portcullis House in Westminster – built to last 120 years. Importantly, these projects span a creative journey of inquiry into architecture's potential. Together, they represent a committed, pioneering and prescient story, signifying innovation through iteration.
"Michael was an engaging and inspirational figure to the many who followed him, both in his practice and outside. He encouraged them to think differently about how architecture can engage with place and people to help shape a better constructed world. His inventive spirit will long endure through the legacy of his and Patty's buildings, their practice, their extended and connected family, and their wide circle of friends and colleagues."
Fiona Scott, director of Gort Scott said: "I applied for a summer job at Hopkins after my first year as an undergrad. I would've worked for peanuts at the time because I knew next to nothing, but Michael told me that they like to pay people properly.
"I had great respect for that. It was an important experience and I got a huge amount of practical professional insight from fire compartmentation to ventilation of commercial spaces, and remain very grateful… RIP to a giant of British architecture."
The partners at RSHP issued the following statement: "The practice founded by Michael and Patty Hopkins have delivered, and continue to deliver, some of the most elegant and beautifully crafted buildings of their generation with a distinct DNA. The work has always shown an exceptional attention to detail, a celebration of how buildings are assembled, a richness of materiality and a consistent commitment to the principles of sustainable design.
"The architectural constellation has lost another star. Our heartfelt condolences extend to Patty, to family and friends, as well as to all those past and present in the practice who were influenced and inspired by Michael and his work."
Chris Dyson said: "I first became acquainted with the work of Michael and Patty Hopkins through my days at Oxford Brookes University. Michael gave a talk on the practice's projects to the school one evening, and the work was riddled with qualities I enjoyed – the use of natural materials, context, scale and attention to detail, all in a modern way."
"What distinguished Hopkins' later work from his peers was his ability to create a humanity in his approach to architecturethrough an intuitive sensibility to context, an appropriate sense of human scale, along with opening up modern buildings to a wider palette of materials: brick, stone, timber and metal. Timeless, functional and elegant."
Architect Charles Holland said: "Very sad to hear of the death of Michael Hopkins. I visited the wonderful house he designed with Patty a couple of years ago and met them both. What a beautifully sublime piece of design and what an amazing career."
Former Hopkins employee and past RIBA president Alan Jones said: "So sad, thinking particularly of Patty and all Hopkins Architects at this difficult time. I owe Sir Michael Hopkins and those at Hopkins Architects so much; those first seven years of practice shaped me into the architect that I am. Thank you."
The principals of Hopkins Architects issued a statement saying: "Michael will be sadly missed by all of us who were lucky enough to have worked with him. He was consistently rigorous in his thinking, brilliant in his analysis and fearlessly creative in his designing. To have worked with him on so many projects was an education like no other and an absolute privilege."
"With Michael the process was always intensely focussed and the conversation that led to the buildings always began as a voyage of discovery typically centred on establishing a sense of place, about how to make historic connections, how to put the materials together in an honest and contemporary way so that the building would appear calm and make immediate sense to the end user.
"Nothing was ever taken for granted. He was greatly respected both as an architect and as a person of integrity and we will all miss him enormously."
>> Also read: Sir Michael Hopkins dies aged 88