Up-and-coming UK teams pip Tonkin Liu and international rivals for Royal Botanic Gardens project
Judges selecting practices to design three new structures for the Royal Botanical Gardens' Treehouses at Kew project have picked small UK firms after an international competition that garnered more than 200 entries.
Freelance architect India Aspin and freelance designer Amy Jenkins Smith beat rival shortlisted teams including one featuring Tonkin Liu with their "Polypore/Play that Fungi Music" entry in the competition category dedicated to celebrating play. (See full shortlist below)
Described by Aspin and Jenkins Smith as an "ode to fungi", the treehouse aims to recognise Kew's expertise in fungi research, highlight the beauty of fungi, and provide accessible play space.
Former Adam Khan Architects staffer Patrick Fryer, with Thomas Randal-Page and timber-structures specialist Xylotec won the competition's sustainable-materials-and-innovative-design category with their "Linden Thing" entry. It is Inspired by the historic Germanic tradition of holding meetings – including judicial courts – under a linden tree.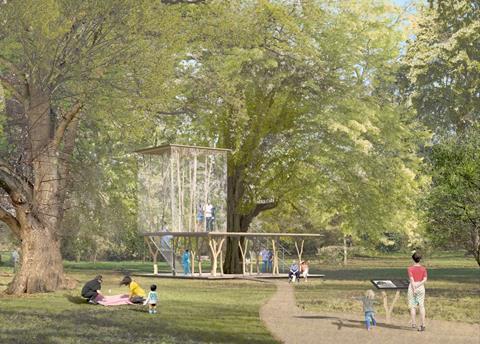 Kevin Kelly Architects with Stand's "Audience with Nature" entry was picked by judges in the competition category dedicated to highlighting nature's architecture and biomimicry. The treehouse vision is for an inhabitable amphitheatre that mimics the structural strength and shape of pinecones.
Kelly is a former BDP associate who set up his eponymous practice in 2020.
The three treehouses selected through the competition will be joined by four more structures for the Treehouses at Kew exhibition, which will run from April next year.
Another three treehouses will be direct commissions by architects from Kew's "designated international scientific priority" countries. A seventh treehouse will be co-designed in collaboration with young people.
RIBA president Simon Allford, who was a member of the judging panel for the competition – run in conjunction with charity the Museum of Architecture, said he was looking forward to "walking, sitting, climbing and relaxing in the treehouses" very much.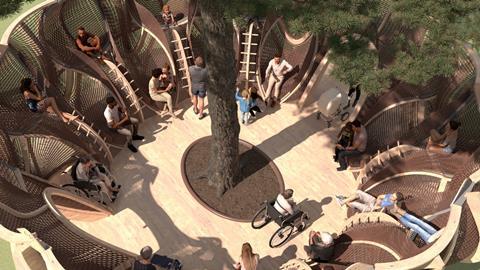 "India Aspin and Amy Jenkins Smith's entry is a delightful proposition that explores fungi at the scale of architecture, object and form in a delightful and playful way," he said.
"Patrick Fryer, Thomas Randall-Page and Xylotek's treehouse will be a striking pavilion that moves from the architectonic to the primitive in a sophisticated and engaging dialogue with the linden tree all enjoyed whilst sipping linden tea.
"Kevin Kelly Architects with Stand's amphitheatre like, architecturally scaled, furniture will offer a place to relax and reflect under the canopy of their tree."
Paul Denton, head of visitor programmes and exhibitions at Kew said all 10 shortlisted entries had been of extraordinarily high quality.
"We at Kew are passionate about the role art and architecture can play in communicating complex stories around the important role plants and fungi play in supporting all life on earth," he said.
"The winning designs demonstrate a unique approach, using sustainable materials, to offer personal connections and experiences with the trees they surround and inhabit."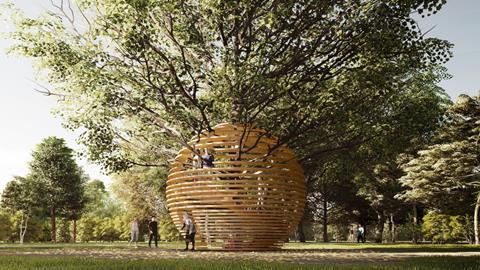 Museum of Architecture founder and director Melissa Woolford said all shortlisted practices had put an "incredible" amount of effort into their work on the project's second stage.
"The attention to the narrative, the science links and the design was impressive," she said. "I can not wait to see the three that have been chosen as they all have a strong link to the brief and are very different in approach and technique."
Treehouses at Kew shortlist
Tree 1: Celebrating play (Norway maple)
:: Tonkin Liu with Sam Clark, Gary Grant and Martin Bailey (UK)
:: Unknown Works in collaboration with Construkt CLT (UK)
:: India Aspin with Amy Jenkins Smith (UK)
Tree 2: Highlighting nature's architecture and biomimicry (pine)
:: Sabela Rey Vila + Ignacio Garcia Donoso (Spain)
:: Kevin Kelly Architects with Stand Engineers (UK)
:: Studio John Bridge Ltd in collaboration with Atmosfera (UK)
Tree 3: Showcasing the use of sustainable materials and innovative designs (silver lime)
:: Built.Works (UK)
:: Nudes (India)
:: Thomas Randall-Page Studio + Patrick Fryer Architecture + Xylotec (UK)
:: Agenda Architecture (US)