Two-stage competition by Museum of Architecture will seek ideas to showcase gardens' work on climate change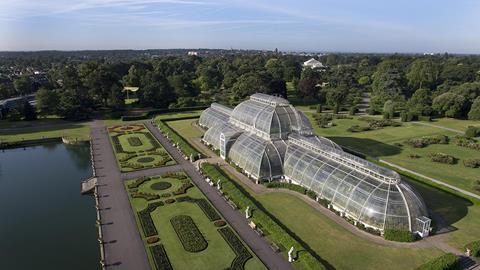 The Royal Botanic Gardens at Kew and Museum of Architecture have launched an international competition to design three treehouses that will be part of a major exhibition next year.
Each treehouse is expected to be created using sustainable, renewable materials and be of "exceptional" design. They should also teach Kew Gardens' visitors about climate, biodiversity and sustainable design.
International architects working with the RBG around the world on biodiversity will directly commission the designs, which will be picked in two stages.
Richard Deverell, director of the Royal Botanic Gardens (RBG), Kew said: "This is a unique venture for us in that it combines a celebration of our most prized asset, our beautiful collection of trees at Kew Gardens, with an opportunity to highlight our global science work through an architectural exhibition."
Melissa Woolford, founder of the Museum of Architecture charity, said: "I am really excited to see how design teams respond to this opportunity to create innovative design approaches that inspire thousands of people to think differently about the natural and built environments."
"Treehouses at Kew" will be the RBG's main exhibition next year, running from April to October. It will have seven treehouses in total and is hoping to draw in 900,000 visitors.
The houses will be built on three selected trees, a maple, pine and silver lime, on Kew's 320-acre site and will reflect particular themes:
Celebrating play - on the Norway maple
Highlighting nature's architecture and biomimicry - on the pine
Showcasing pioneering sustainable materials and innovative design - on the silver lime.
All first stage submissions should be emailed to treehouses@museumofarchitecture.org by 12 noon (GMT) on February 7. More information on the brief can be found here.
RBG Kew has been a Unesco World Heritage Site since 2003.