Architect beat starry international shortlist to land Mayfair project for Grosvenor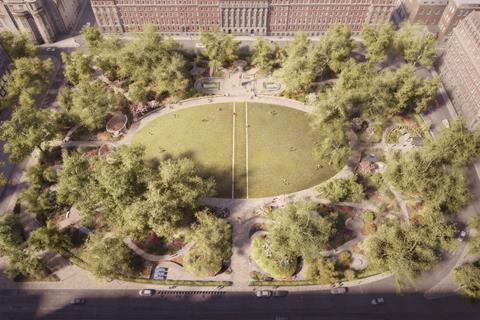 Tonkin Liu has submitted plans to transform London's Grosvenor Square into a carbon neutral urban garden with a biodiversity net gain of 15.5%.
The architect worked with horticulturalists Nigel Dunnett and Gary Grant to come up with a design that it said would increase the number of plant species in the West End by 500%.
Property group Grosvenor Britain & Ireland, which manages the square as part of the Duke of Westminster's multi-billion-pound property empire, has submitted the plans to Westminster council hoping the Mayfair square's redesign will be completed in time for its 300th anniversary in 2025.
Other features of the garden, if approved, will include a shaded garden showcasing biodiverse planting, a central open garden re-instating the original 1720s oval shape and waterfall canopies.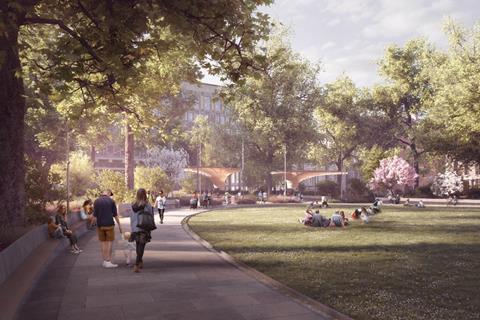 Anna Liu, director at Tonkin Liu, said: "We are proud of the design's simplicity, biodiversity, integration of rainwater, celebration of the Georgian oval geometry, and absolute commitment to the social and environmental benefits a garden brings to central London. Our gardens create the soul of our city, bringing people closer to each other and closer to nature."
Ed Green, project director at Grosvenor Britain & Ireland, said: "Our long-term goal is to be a regenerative, climate-positive business. In its design, delivery and future operation, every aspect of this project has considered how we can contribute to this aim."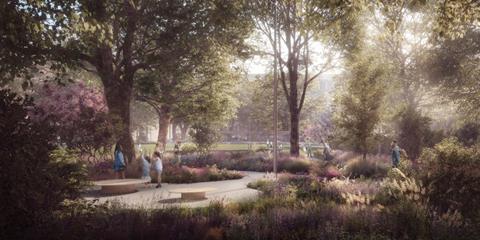 Tonkin Liu was picked in February after a six-month competition which followed Grosvenor's international call for ideas back in 2018.
The double Stephen Lawrence Prize-winner beat a starry shortlist including Sanaa, Diller, Scofidio & Renfro, Eric Parry, Muf and Dan Pearson.
Tonkin Liu's plans were submitted after an extensive public consultation, which received 3,300 responses. Eighty-eight per cent of the respondents were positive about the plans, said Grosvenor.
Grosvenor Square is also the site of the former US Embassy building, which is being redeveloped by David Chipperfield Architects. The original building was opened in 1960 and designed by renowned Finnish-American architect Eero Saarinen.