Contractor appointed to £400m job, one of the capital's most valuable to be awarded this year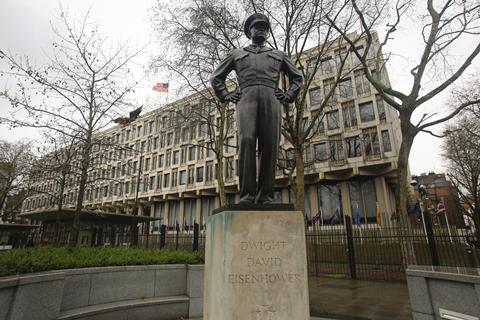 David Chipperfield Architects' redevelopment of the former US embassy in Grosvenor Square has taken a significant step forward with the appointment of a main contractor.
Multiplex has won what is being described as one of the biggest London building jobs to be awarded this year, according to Building Design's sister magazine Building.
It revealed that the firm is now preferred bidder for Qatari Diar's £400m scheme to turn Eero Saarinen's former embassy on the west side of Mayfair's Grosvenor Square into a luxury hotel, having beaten remaining rival Balfour Beatty.
Multiplex, which earlier this month finally completed work on the City of London's tallest tower, 22 Bishopsgate and is also working for Qatari Diar at Chelsea Barracks, is expected to start work on the job next month.
A winner had been due earlier this year but the covid-19 pandemic delayed the bidding process which saw a pitch from Mace culled earlier on – although its interest didn't disappear completely, with the firm continuing to keep a watching brief on the job.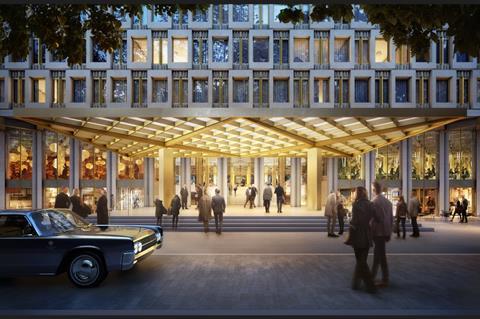 The redevelopment will see the grade II-listed former embassy converted into a 137-room hotel operated by Hong Kong-based Rosewood Hotels, plus five restaurants, six retail units, a spa and a 1,000-person ballroom.
Chipperfield beat off competition from Foster & Partners and KPF to land the plum job in 2016, winning planning permission later that year. Back then it was being described as a £1bn project.
Consent was granted by Westminster council despite objections from the Twentieth Century Society that his plans would damage the brutalist building which completed in 1960, the acclaimed Finnish-American architect's only UK project and Britain's first modern embassy.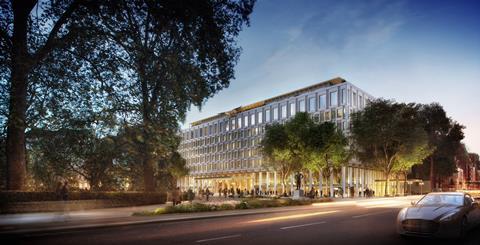 It said planned demolition of the majority of the internal spaces, particularly the removal of the original staircases, would harm the building which was listed at grade II in 2009 by controversial heritage minister Margaret Hodge.
In a letter to the council it added: "The proposed double-height sixth floor will damage the present proportions of the listed building: the rhythm of the front façade will be fundamentally changed."
Since then almost all but the main facade has been demolished.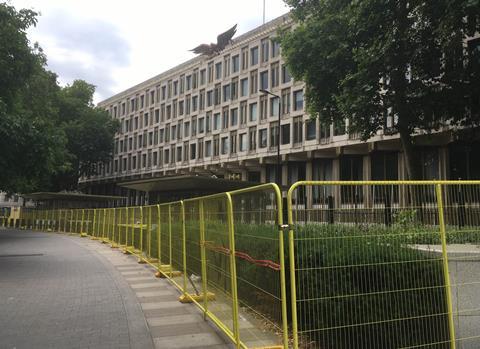 Last month David Chipperfield Architects was also appointed to design a new embassy for China on land previously occupied by the Royal Mint at Tower Hill. The decision sparked controversy, not least among residents of the borough which has the largest Muslim population in the UK. China has been condemned internationally following reports of human rights violations against Uighur Muslims, as well as for its sweeping new security laws in Hong Kong.
Chipperfield said of his Grosvenor Square plans when they were unveiled in 2016: "Our design proposals protect and respect the significant architectural and structural characteristics of Eero Saarinen's design, with a focus on restoring and enhancing this unique building to secure its long-term future at the heart of Mayfair."
He also said: "We have studied the building's design and its history as well as its surroundings to deliver an architecturally and socially coherent proposal, which will transform this purpose-built embassy into a world-class hotel."
The last US embassy staff moved out back in January 2018 into its new building, designed by Kieran Timberlake, at Nine Elms in Vauxhall.