New River Head project will repurpose 18th- and 19th-century industrial buildings to house Quentin Blake archive
Tim Ronalds Architects has won planning permission to redevelop former industrial buildings in Clerkenwell into a £12m national centre for illustration that will be named in honour of Quentin Blake.
The practice, which counts the stripped-back preservation of the grade II* Wilton's Music Hall in east London among recent high-profile projects, won a 2020 design competition to transform four 18th- and 19th-century buildings at New River Head into the new home for the House of Illustration.
Islington council has now resolved to grant planning permission for the scheme, which will bring together galleries, a learning studio, public gardens, a shop and a café. The centre will replace the House of Illustration's former base at Granary Square in King's Cross and will also house the archive of Blake, who founded the organisation, and display selections from the 40,000 works it contains. Some of his best-known pieces are illustrations for Roald Dahl books.
A stone's throw from Sadler's Wells Theatre and Berthold Lubetkin's Spa Green Estate, New River Head takes its name from the reservoir at the head of the New River, the 17th-century channel cut to bring clean drinking water to London from springs in Hertfordshire. The 2,000sq m site earmarked for the illustration centre currently includes the remains of a windmill and a 19th-century engine house.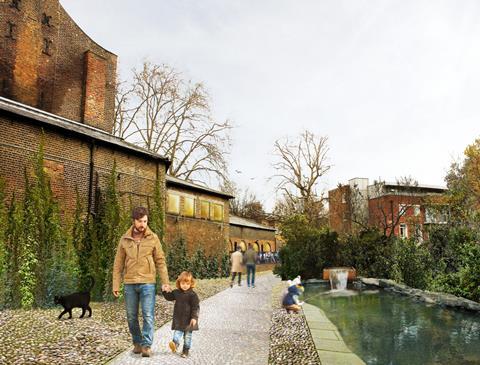 House of Illustration director Lindsey Glen said Islington council's decision to back the plans was a "significant milestone" for the scheme, which will be named The Quentin Blake Centre for Illustration.
"Tim Ronalds' inspiring architectural scheme will open up the fascinating sights and stories of New River Head, creating spaces where everyone can enjoy, examine and take part in the graphic arts," she said. "We can't wait to welcome visitors through the doors."
House of Illustration has raised around £5m towards the total cost of the project, which has increased from £8m to £12m over the past two years. It said the remainder would come from individual donations, grants from trusts and foundations and a public fundraising campaign.
Work is expected to begin this year with a late-2023 opening targeted for the centre.