Planners recommend go-ahead for hotel scheme after site changes ownership
Squire & Partners-designed plans for a 200-room hotel on the site of a 1980s office block a stone's throw from Trafalgar Square are set to get the go-ahead from Westminster council.
The practice's proposals were drawn up for developers Clivedale and ABIL, which acquired 5 Strand from US investment-management firm BlackRock last year. BlackRock had secured consent for an Adjaye Associates-designed office-led redevelopment of the site in December 2017.
With a gross internal area of 14,500sq m, over 12 floors and three basement levels, the Squires scheme delivers broadly the same floorspace as the Adjaye proposals, however that scheme included 26 flats on its upper floors and a ground-floor retail colonnade in addition to its office space. (See gallery at the bottom of this story.)
The latest proposals would deliver a 200-room hotel, to be operated by Park Hyatt Hotels, and two restaurants – one with a terrace on the 11th floor.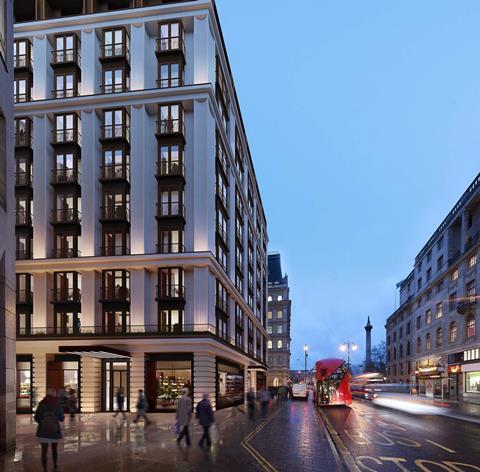 Squires has shaved 1m off the height of the building and set back part of the 11th floor and roof plant by 3m since the scheme was submitted earlier this year, following concerns over the impact on views from The Mall.
Recommending the proposals for approval, Westminster planning officers said the current building on the site had a "poor" interface with public realm that had resulted in a degree of antisocial behaviour, with "considerable lengths" of blank frontage at ground-floor level.
"The new building footprint fills the site, dispenses with the arcade and has a more active and enlarged frontage with new entrances for the hotel lobby and restaurant," they said.
"The building line to Strand moves forward to align with the adjacent grand buildings and, while this increases visibility of the building, it also helps to integrate the building into the existing street scene in a more satisfactory way than the existing building."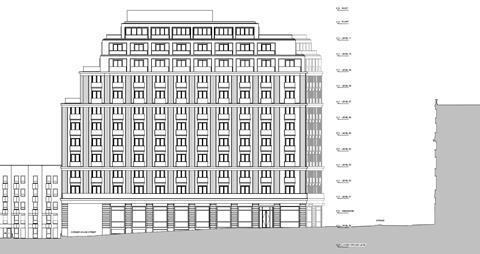 Planners praised the proposals' Strand-fronting large picture windows framed by rusticated limestone columns and the dark grey/bronze anodised aluminium cladding suggested for the top three floors – which they said sought to respond to the slate-covered roofs of nearby buildings.
"The building exhibits an ordered appearance with classical proportions in a contemporary style that would complement the surrounding varied townscape," they said.
Westminster's planning committee meets at 6.30pm on December 17.