HE forced to confirm it does not support razing London landmark after promotion prompts confusion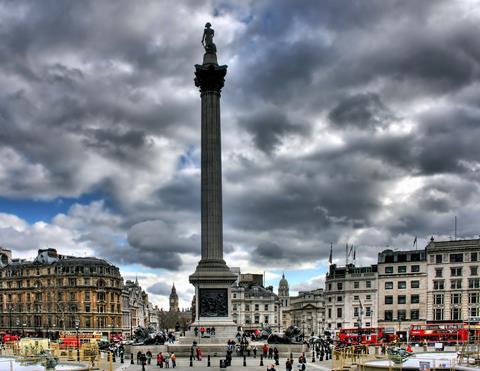 Historic England has been forced to confirm that it is resolutely not in favour of smashing Nelson's Column to pieces after an animation produced to promote an event depicted a wrecking ball swinging at the landmark and seemingly prompted confusion.
Despite the implausibility of the government heritage adviser adopting such a stance on the grade I-listed monument, it issued a statement on its position with regard to the Trafalgar Square centrepiece, constructed between 1839-42 in honour of the naval hero.
The GIF animation was used to promote a debate next month that Historic England is running in partnership with the Intelligence Squared organisation, titled "Revere or remove? The battle over statues, heritage and history".
Social media responses to the animation, which Historic England tweeted over the weekend, suggested some people believed removal of the landmark was being proposed.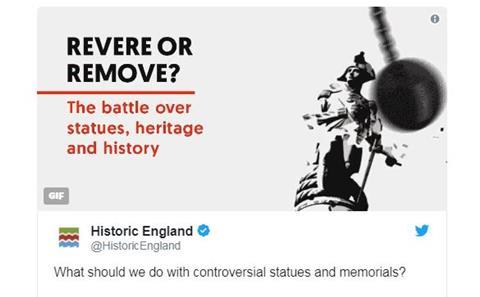 Historic England said in its statement that the column had been picked for the animation because it was so well known. However it accepted confusion had been caused.
"Nelson's Column was chosen because it is so iconic and well-recognised," it said. "This does not mean we are in favour of demolition of any monument and the debate is not about Nelson's Column itself.
"It is about how the nation responds to criticism of our public statues and monuments and what they are thought to represent.
"The GIF was intended to get this across in a quick and memorable way but we know it has caused some concern so we won't be sharing it again."
What should we do with controversial statues and memorials?

Join the public debate with @Freedland @afuahirsch @peterfrankopan @DavidOlusoga @tiffanyjenkins @intelligence2 on Monday 14 May 2018 in London: https://t.co/KR9AGGNpzl#Immortalised pic.twitter.com/Z9NLSXEOBs

— Historic England (@HistoricEngland) April 15, 2018
The organisation pointed out that debates about the future of monuments were going on around the world. Many of these involve statues of slave traders. One Guardian writer has even made the case for Nelson to go.
"It is Historic England's job to help people look after historic monuments and to promote public understanding and appreciation of England's historic environment," it said.
"We believe that having open debates is a good way of doing this."
The Intelligence Squared debate takes place on May 14 at the Emmanuel Centre in Westminster. A website for the event indicates tickets cost up to £30 each.