Project team eyes December start on site for 50m tall Möbius strip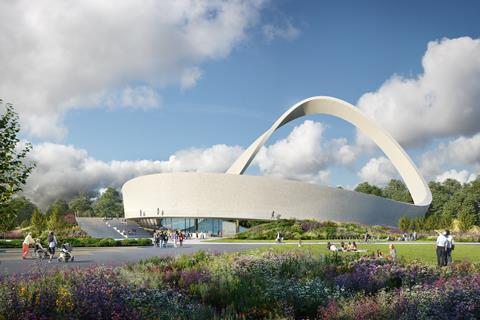 Snug Architects has submitted its proposals for a £6.25m national prayer landmark on the outskirts of Birmingham.
The Southampton-based practice beat four other finalists – including proposals from Italian and Danish architects – to land the Wall of Answered Prayer commission in a RIBA competition last year. More than 130 architecture practices from 28 countries entered submissions.
Project bosses confirmed this week that Snug's winning design, which is a 50m tall Möbius strip made from a million bricks, each one representing an answered prayer, had been submitted to North Warwickshire borough council for approval.
The landmark design is earmarked for a 4ha site near Coleshill which sits between the M6 and M42 motorways. It will also be visible from planes taking off and landing at Birmingham Airport as well as from HS2 trains, which will pass nearby when the line is built.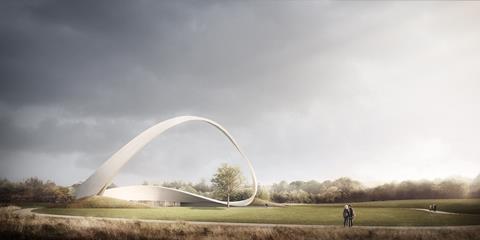 Snug founder Paul Bulkeley – who is also head architect for the project – said the practice was very excitied by the scheme's progression.
"It's a structure of national significance and we are honoured to have played a part in the vision and the team that brings such a large-scale monument to the heart of the UK," he said.
Snug's winning design for the project was picked by a judging panel that included include Labour MP Stephen Timms, chair of the all-party parliamentary group for faith and society; Renato Benedetti, founder of Benedetti Architects; and broadcaster Pam Rhodes.
The practice beat a shortlist that included Stefano Baseggio; Quattro Design Architects; Mathias Bank Stigsen, Asbjørn Staunstrup Lund and Thomas Sigsgaard Jensen; and Luke Macnab, Andrew Wardrope and Thu Nguyen-Phuoc – with support from FCBS.
The project team hopes to complete the Wall by 2022, when Birmingham will host the Commonwealth Games.
The shortlist