50m Möbius strip will be built from a million bricks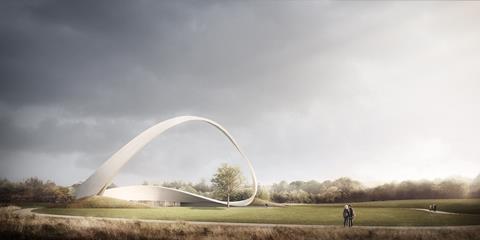 Snug Architects has won a RIBA competition for a £6.25m national prayer landmark on the outskirts of Birmingham.
The Southampton-based practice, which employs 15 staff and was set up in 2003, beat four other finalists, including proposals from Italian and Danish architects, to land the job which is known as the Wall of Answered Prayer.
More than 130 architecture practices from 28 countries entered submissions.
The winning design will be a 50m tall Möbius strip made from a million bricks, each one representing an answered prayer which visitors can access through a phone app. The client said the scheme would "remind generations of God's goodness".
The monument will sit on a 10-acre site between the M6, M42 and HS2 and could be seen by up to 30,000 people every day.
Richard Gamble, chief executive of The Wall of Answered Prayer, said the group, which is backed by the Evangelical Alliance, will be donating a million bricks to social housing projects across the UK.
He added: "This 15-year-old vision is now becoming reality. I'm chuffed to bits with the design which handled perfectly the challenge of creating intrigue when being seen from afar, yet provides a truly interactive journey for those who visit. We want to create an iconic structure the nation will not only be proud of but find inspirational – it will be a landmark of hope."
He praised Snug for its "unique interpretation of the brief and appropriately challenging design, featuring dynamic geometry and a stunning representation of a Möbius strip – a non-orientable surface which seemingly has no beginning and no end. Its innovative approach of incorporating the visitor centre within this piece of architectural public art set it apart, creating a striking image as it towers 50 metres into the skyline".
The project website states: "God has faithfully and powerfully moved throughout the history of the UK, whether by answering the prayers of St Augustine in the 6th century, to the millions of people who queued up outside churches to pray for the men on the beaches of Dunkirk. We want to celebrate and remember all the prayers God has answered throughout our nation's history."
Paul Bulkeley, Snug's design director, said he hoped it would engage and inspire people. He added: "It is an honour to have been chosen to design and deliver this project of national significance."
Judges include Labour MP Stephen Timms, who is chair of the all-party parliamentary group for faith and society, Renato Benedetti, founder of Benedetti Architects, and broadcaster Pam Rhodes.
The project team hopes to complete The Wall by 2022, when Birmingham will host the Commonwealth Games. Work is due to start at the end of next year.
The shortlist
Snug Architects, Southampton (WINNER)
Stefano Baseggio, Italy
Quattro Design Architects, Gloucester
Mathias Bank Stigsen, Asbjørn Staunstrup Lund and Thomas Sigsgaard Jensen, Denmark (public vote winner)
Luke Macnab, Andrew Wardrope and Thu Nguyen-Phuoc – with support from FCBS, Bath