OMA partner Ellen van Loon will chair panel with 2022 winner Niall McLaughlin among members
RIBA has named OMA partner Ellen van Loon as chair of the jury that will decide the winner of this year's Stirling Prize.
She will be joined by 2022 Stirling Prize winner Niall McLaughlin, Foster & Partners senior partner Armstrong Yakubu, writer Mona Chalabi and Marek Suchocki of event sponsor Autodesk.
Buckley Gray Yeoman head of sustainability Rachel Owens will be the jury's sustainability expert, which is a non-voting role.
RIBA is not due to reveal the shortlist for this year's Stirling Prize until early next month, but it will be drawn from the winners of this year's National Awards.
McLaughlin has one project – Saltmarsh House, on the Isle of Wight – which is effectively longlisted for the Stirling Prize because it won a National Award this year. BD understands that he would step down from the jury if the project were shortlisted. (See box below for a full list of RIBA National Award winners.)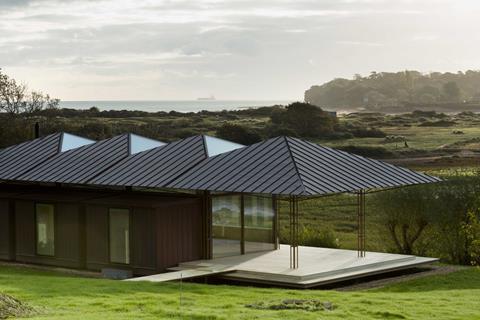 Van Loon, who is leading the development of OMA's Factory International performance space in Manchester, said it was a privilege to chair the 2023 Stirling Prize jury.
"As a Dutch architect and RIBA member, I am honoured to chair the panel that will select the UK's most remarkable new building," she said.
"The RIBA Stirling Prize plays such an important role in celebrating architecture excellence and rewarding talent."
The shortlist for the prize is due to be announced on 6 September. The winner will be announced at a ceremony in Manchester on 19 October.
Stirling Prize longlist: RIBA National Award winners 2023
:: A House for Artists by Apparata Architects (Barking, London)
:: Agar Grove Phase 1b by Mæ, (Camden, London)
:: Blackbird by Nicholas Lyons of _and-lyons-architects with Hamish Herford (Gloucestershire)
:: Bloqs by 5th Studio (Enfield, London)
:: Brick House by Howells (Birmingham, West Midlands)
:: Central Somers Town Community Facilities and Housing by Adam Khan Architects (Camden, London)
:: Courtauld Connects – The Courtauld Institute of Art by Witherford Watson Mann Architects (London)
:: Cuddymoss, Ann Nisbet Studio (Ayrshire, Scotland)
:: Edith Neville Primary School by Hayhurst & Co Architects (Camden, London)
:: Great Things Lie Ahead, 2020, Holborn House by 6a architects (Holborn, London)
:: Hanover by Lifschutz Davidson Sandilands (Mayfair, London)
:: Hill House by McGonigle McGrath (County Down, Northern Ireland)
:: Hundred Acre Wood, Denizen Works (Argyll and Bute, Scotland)
:: Hushh House by Elliott Architects (North Yorkshire)
:: John Morden Centre by Mæ (Greenwich, London)
:: Laidlaw Music Centre by University of St Andrews, Flanagan Lawrence (Fife, Scotland)
:: Lavender Hill Courtyard Housing by Sergison Bates Architects (Clapham, London)
:: Lea Bridge Library Pavilion by Studio Weave (Waltham Forest, London)
:: Manchester Jewish Museum by Citizens Design Bureau (Greater Manchester)
:: Middle Avenue by Rural Office (Farnham, Surrey)
:: Pen y Common, Nidus Architects and Rural Office (Hay-on-Wye, Wales)
:: Radley College Chapel Extension, Purcell Architecture Limited, (Oxford)
:: Rhossili House, Maich Swift Architects (Rhossili, Wales)
:: Saltmarsh House, Niall McLaughlin Architects (Isle of Wight)
:: Spruce House and Studio, ao-ft (Walthamstow, London)
:: Swing Bridge, Tonkin Liu (Crystal Palace Park, London)
:: Taylor & Chatto Courts and Wilmott Court Frampton Park Estate, Henley Halebrown (Hackney, London)
:: The Fireworks Factory at Woolwich Works, Bennetts Associates (London)
:: The Kit Kat Club at the Playhouse Theatre, Carmody Groarke (London)
:: University of Warwick – Faculty of Arts, Feilden Clegg Bradley Studios (West Midlands)