Niall McLaughlin and Witherford Watson Mann projects on 30-strong list, while Mæ and Rural Office bag double entries
RIBA has announced its 30-strong list of National Award winning projects. Among them are Saltmarsh House, on the Isle of Wight, by Niall McLaughlin Architects, winner of last year's Stirling Prize, and Witherford Watson Mann's Courtauld Connects project at the Courtauld Institute of Art. Witherford Watson Mann won the highest prize in British architecture in 2013.
Two practices have secured double entries on this year's National Awards list: Mæ Architects and Rural Office. Mæ's Sands End Arts and Community Centre in Fulham was shortlisted for last year's Stirling Prize; Niall Maxwell, principal of Carmarthen-based Rural Office, and James Macdonald Wright won RIBA's House of the Year award in 2017 for Caring Wood in Kent.
Sixteen of this year's National Award winners are projects in the capital. Three are in Scotland; two are in Wales and just one is in Northern Ireland – Hill House by McGonigle McGrath, winners of 2019's RIBA House of the Year Award.
The shortlist for this year's Stirling Prize, which is due to be announced in early September, will be drawn from the 2023 National Award winnners.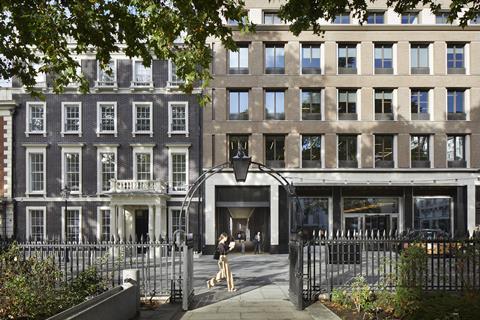 Among the National Award winners are Manchester Jewish Museum by Citizens Design Bureau, Tonkin Liu's Swing Bridge at Crystal Palace Park, Howells' Icknield Port Loop mews houses in Birmingham and Lifschutz Davidson Sandilands' Hanover project linked to the new Elizabeth Line station at Bond Street.
RIBA said building communities in a post-pandemic world and modelling sustainability were key themes among award winners. The regeneration of the Agar Grove Estate in Camden, which one of Mæ's awards forms part of, was listed as one example of the sustainability theme: Agar Grove is described as being "on track" to become the UK's largest Passivhaus scheme.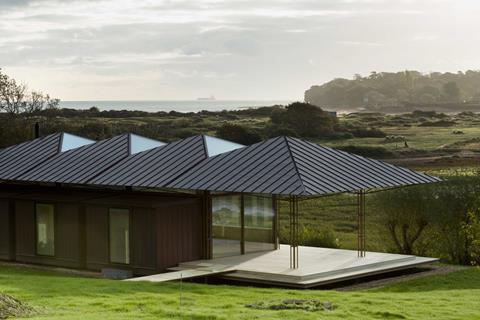 RIBA president Simon Allford said the 2023 National Award winners offered a "rich source of inspiration" at a time when building collaboratively and working towards a sustainable future are paramount concerns for architects.
"Each project looks, in its own way, to address both its client brief and the wider role architecture can play in serving society," he said.
"Among the winners are a number of projects that offer a model for an architecture that is more widely responsible. These buildings intelligently illustrate the potential of well-designed spaces to bring people together and, ultimately, architecture's power to change our world for the better. 
"Our awards are a marker of progressive excellence in sustainable design, very much aligned with our wider commitment to a low carbon future. These are examples of forward thinking and ingenuity that raise the bar for us all."
RIBA National Award winners 2023
:: A House for Artists by Apparata Architects (Barking, London)
Flexible live/work space for 12 artists. In exchange for reduced rent, they deliver free creative programmes for the neighbourhood through a street-facing, glass-walled community hall and outdoor exhibition space.
:: Agar Grove Phase 1b by Mæ, (Camden, London)
Model of low-energy, Passivhaus social housing. This project seeks to reduce operating costs, while creating dynamic apartments appropriate for family living. Fifty-seven new homes are arranged in three blocks around a paved courtyard, providing communal amenity, play and gardening space. 
:: Blackbird by Nicholas Lyons of _and-lyons-architects with Hamish Herford (Gloucestershire)
New pavilion home and lake in the Cotswolds. A low, dark oversailing roof and charred wood cladding belie the sense of awe and light that awaits inside this home designed for a couple to enjoy gardening and artistic pursuits.
:: Bloqs by 5th Studio (Enfield, London)
Slick and bright redevelopment of an industrial shed into a buzzing social enterprise including workshops for people working in design and manufacturing.
:: Brick House by Howells (Birmingham, West Midlands)
Bold and ambitious development of 37 mews houses, centred around a communal garden and historic canal.
:: Central Somers Town Community Facilities and Housing by Adam Khan Architects (Camden, London)
Part of a larger masterplan, this project includes a flexible community children's facility, adventure playground and several homes for social rent.  
:: Courtauld Connects – The Courtauld Institute of Art by Witherford Watson Mann Architects (London)
Part of a multi-phase project that aims to open up the institution both physically and culturally. This phase includes the reworking of the entrance, a beautiful new stair down to basement visitor facilities; and re-levelling and opening up the 18th century vaults.
:: Cuddymoss, Ann Nisbet Studio (Ayrshire, Scotland)
New home built inside and around a 200 year-old ruined building, previously used to house people and cattle. A simple timber-clad second building, connects to the ruin by a glazed link and provides additional space bringing the building gently back to life as a beautiful home.
:: Edith Neville Primary School by Hayhurst & Co Architects (Camden, London)
At the core of Camden's first phase of regeneration for the Somers Town estate, this school replaced a previous dilapidated building. The new building and boundary have been thoughtfully designed to extend the surrounding parkland landscape. 
:: Great Things Lie Ahead, 2020, Holborn House by 6a architects (Holborn, London)
Refurbishment and extension of a gym to provide a new, more visible and accessible community building. The old basement has been stripped back to its concrete structure and opened to the sky, with new rooflights over a multipurpose hall and a two-storey street-facing extension providing a new entrance and function spaces.
:: Hanover by Lifschutz Davidson Sandilands (Mayfair, London)
Complex of five mixed-use buildings and generous public spaces above the new Elizabeth Line's Bond Street station entrance. The project involved the restoration and conservation of a series of historic façades along New Bond Street, providing new office space behind.
:: Hill House by McGonigle McGrath (County Down, Northern Ireland)
Located on the gently sloping southern side of the Lagan Valley, this highly accomplished and beautifully crafted new family home relates strongly to its external landscape and topography.
:: Hundred Acre Wood, Denizen Works (Argyll and Bute, Scotland)
Set within a stunning landscape overlooking Loch Awe, this new build family home is clad in recycled TV screens and features a central hall space designed to accommodate a 5.5m Christmas tree. Architect and client conversations focused on the history of Scottish architecture and inspiration was drawn from the sculptural works of Eduardo Chillida, which evoke the sense of a carved solid mass.
:: Hushh House by Elliott Architects (North Yorkshire)
Bespoke new home arranged as a series of interlinked composed spaces separated by small courtyards. The building sits in the grounds of an existing larger property and develops the previous walled tennis court.
:: John Morden Centre by Mæ (Greenwich, London)
Day centre for a later-living residential charity. The timber and brick building includes a medical centre, café, lounges and offices. A meandering timber spine forms an enclosed forest-like walkway stitching together a series of brick pavilions, expertly combining recreational and more tricky medical facilities without feeling institutional. 
:: Laidlaw Music Centre by University of St Andrews, Flanagan Lawrence (Fife, Scotland)
This is a considerate and well composed addition to the city's ancient centre, complementing its listed neighbours. Alongside the suite of rehearsal and practice spaces contained within the building, the main performance space incorporates two world firsts for a chamber hall: a fully mechanised floor beneath it and a reverberation chamber above. 
:: Lavender Hill Courtyard Housing by Sergison Bates Architects (Clapham, London)
Tucked away down a timber-lined passageway, barely visible at the end of a Clapham mews, Lavender Hill Courtyard has redeveloped a former sheet-metal workshop into nine apartments, arranged around a courtyard space and a timber-decked terrace on the first floor. 
:: Lea Bridge Library Pavilion by Studio Weave (Waltham Forest, London)
Built at the rear of a charming Edwardian red-brick public library, this relatively modest multi-function extension sensitively complements the existing building, bringing very useful additional space to an important community facility and new life to a charming but neglected historic garden. 
:: Manchester Jewish Museum by Citizens Design Bureau (Greater Manchester)
This new museum, clad in perforated Corten steel, comprises a gallery space, archive, learning space, and visitor amenities adjoining a fully renovated grade II*-listed former synagogue. Standing on busy Cheetham Hill, in the heart of Manchester, it both serves and celebrates the local Jewish community. 
:: Middle Avenue by Rural Office (Farnham, Surrey)
Set on a corner plot in the conservation areas of a garden suburb this adaptable home pays homage to the local architecture and the design principles of the Arts and Crafts movement. Throughout the house, inside and out, great care has gone into the detailing and craftsmanship.
:: Pen y Common, Nidus Architects and Rural Office (Hay-on-Wye, Wales)
Sympathetic extension to a traditional 17th-century Welsh longhouse. Thinking local has driven the project, with timber and stone and skills sourced from the close vicinity.
:: Radley College Chapel Extension, Purcell Architecture Limited, (Oxford)
Contemporary extension and refurbishment of a listed chapel to increase capacity. The approach creates a new sanctuary and small apses and improves the chapel's acoustics. 
:: Rhossili House, Maich Swift Architects (Rhossili, Wales)
New family house on an exposed clifftop. From the outside, the two-storey, pitched-roof, white-rendered composition is a familiar coastal motif. Internally, the clever positioning of windows, of various proportions, offers moments of difference and intrigue. 
:: Saltmarsh House, Niall McLaughlin Architects (Isle of Wight)
Conceived as a delicate steel-frame pavilion, this new home takes reference from the repeating pitched-roofed glasshouses that once graced the kitchen gardens of the grade II-listed Victorian house in the grounds of which the project sits. 
:: Spruce House and Studio, ao-ft (Walthamstow, London)
New home and design studio constructed from cross-laminated timber on an infill site. The façade is reimagined as a shopfront, with the ground floor fully glazed behind slatted timber shuttering. This distinctive design feature continues into the interior with a series of slatted privacy screens offering glimpses through the house to the garden beyond. 
:: Swing Bridge, Tonkin Liu (Crystal Palace Park, London)
This elegant bridge provides secure access to a world-renowned collection of life-size dinosaur sculptures. The laser-cut structure references the iconography of a bony fish, negating the need for gates and fences.
:: Taylor & Chatto Courts and Wilmott Court Frampton Park Estate, Henley Halebrown (Hackney, London)
Taylor and Chatto Courts accommodate 16 social-rent and four shared-ownership homes in three 5-storey "villas", while Wilmott Court's palazzo plan creates a new urban block with 15 shared-ownership and 10 private-tenure homes. 
:: The Fireworks Factory at Woolwich Works, Bennetts Associates (London)
Flexible arts venue within a large grade II-listed building complex at the historic Woolwich Arsenal. The building has been stripped back with new interventions and upgrading to support a wide range of arts-based functions including performance spaces, dance studios, artists' workshops, cafés and rental spaces.
:: The Kit Kat Club at the Playhouse Theatre, Carmody Groarke (London)
In repurposing the grade II-listed theatre in order to stage a new, immersive production of the musical Cabaret, Carmody Groarke has created a faux Weimar 1920s ambiance. Transforming the normal front-door arrival sequence, taking visitors past actors' changing rooms and a number of bars, the project sets the scene even before the curtain is lifted. 
:: University of Warwick – Faculty of Arts, Feilden Clegg Bradley Studios (West Midlands)
Impressive new building brings together the departments and schools of the arts faculty under a single roof for the first time. The new building draws inspiration from the site's parkland context. Four pavilion buildings are connected by a feature staircase, inspired by the structure of a tree, that organically grows through the central atrium space, each branch helping to demarcate various communal spaces to encourage cross-disciplinary collaboration. At the base of the stair, it splays to form an amphitheatre that activates the ground floor and addresses the main entrance.