Developers lodge proposals to transform west London street into major upmarket retail destination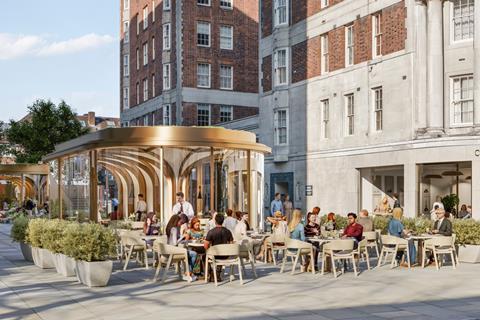 A series of"Parisian-style glass pavilions could be built along Queensway in west London as part of a £3bn project to transform the road into a "blueprint for the future of London's high streets".
Images of the plans have been unveiled by a steering committee made up of developers and landlords who want to turn the street into a major upmarket retail destination.
Queensway connects the northern edge of Hyde Park to Notting Hill and is home to two Tube stations. But, despite its prime location in the heart of one of the capital's wealthiest areas, the street is currently better known for its fast food outlets and souvenir shops than for fine dining.
The redevelopment proposals, which have been lodged for planning, are being overseen by public realm specialists Publica and will see five of the street's retail parades given overhauls.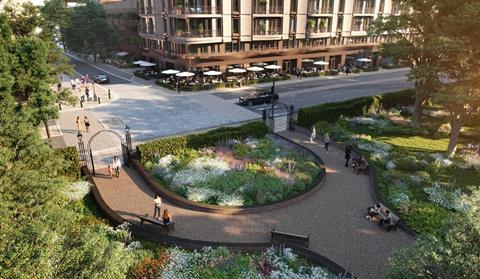 The new Burns and Nice-masterplanned streetscape will include widened pavements, significant new greening and a new public entrance to Hyde Park.
The copper-framed and green-roofed pavilions will replace a strip of car parking spaces which currently line the street and will house cafes with al fresco seating.
Five major schemes feature in the plans, including Foster & Partners' redevelopment of the Whiteleys department store, which closed in 2018 after more than a century of business, into a 1.1 million sq ft mixed-use scheme.
Currently under construction for developers Mark, CC Land and Finchatton, it is due to open in 2023 and will house 139 homes, 20 shops, a cinema, a gym and the 110-room luxury Six Senses hotel.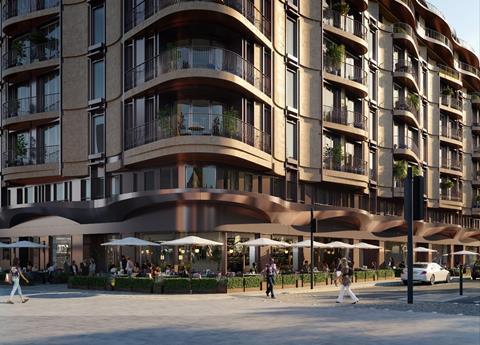 Other schemes include PLP's Park Modern for developer Fenton Whelan, which will provide 57 high-end homes overlooking Kensington Gardens.
Alex Michelin of Finchatton, speaking on behalf of the Queensway Joint Committee, said the proposals for the street's transformation was a "comprehensive vision for the rejuvenation of this historic area of central London".
He added: "This once-in-a-lifetime regeneration of Queensway will deliver an entirely new experience for visitors and residents, including a regreening of the streetscape, wider pavements, significant traffic reduction, improved street lighting and world-class new homes, shops, restaurants and public spaces.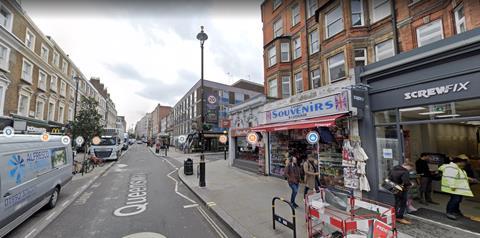 "Through this major investment programme, Queensway will be reborn as a thriving, modern and vibrant living and leisure district; the high street of the future and a vital London destination."
The project, which will undergo consultation with Westminster council and Transport for London, is scheduled to complete in 2026 and will include a total of seven new buildings, 350 new homes and 10,000 sq ft of office space.