Michael Fawcett accused of offering to help Saudi donor receive an honour
The chief executive of the Prince's Foundation has stepped down from his role after newspaper reports that he offered to help secure an honour for a Saudi donor.
The foundation has informed the Scottish Charity Regulator (OSCR) and appointed a senior forensic accountant from a big four accountancy firm to conduct an independent review.
Douglas Connell, the foundation's chair, said that Michael Fawcett had offered to step down temporarily on Saturday while the investigation was carried out.
The Sunday Times and Mail on Sunday published extracts from a letter yesterday in which, they said, Fawcett said the charity would be "happy and willing" to use its influence to help the businessman Mahfouz Marei Mubarak bin Mahfouz.
Mahfouz had reportedly given the charity hundreds of thousands of pounds for renovation works at Dumfries House, a Palladian mansion in Scotland bought by the Prince of Wales in 2007.
Fawcett was chief executive of the Dumfries House Trust at the time, responsible for fundraising for its restoration. He is a former valet to the prince.
He was later promoted to chief executive of the Prince's Foundation, an umbrella organisation which encompasses the trust and several other charities close to Prince Charles's heart including the former Prince's Foundation for the Built Environment and the Prince's Regeneration Trust whose projects include Feilden Clegg Bradley's acclaimed restoration of Middleport Pottery and Nansledan, the Poundbury-esque urban extension to Newquay. Designed by Adam Architecture with Purl Design, Yiangou Architects, Francis Roberts Architects and Alan Leather Associates, it has been shortlisted for a RIBA South West Award.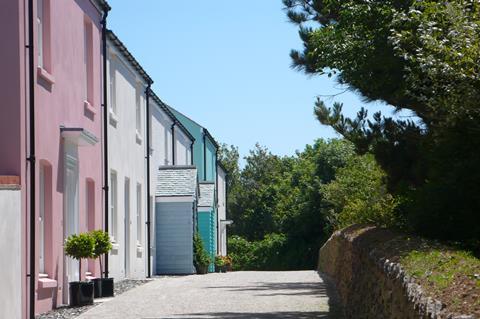 Mahfouz received an honorary CBE in late 2016. Fawcett's letter to his aide in 2017 reportedly offered to make an application for it to be upgraded to a KBE. It also apparently offered to support the businessman's bid for British citizenship, something that he did not ultimately pursue.
A spokesman for Mahfouz told the Mail on Sunday he had "not had personal or direct communication to either request, influence or make any arrangements regarding citizenship or knighthood with Mr Fawcett, or anyone connected to HRH The Prince of Wales or The Prince's Foundation".
Mahfouz had not expected any reward for his charitable donations, the spokesman added.
Fawcett, whose salary is reportedly £95,000, is one of Prince Charles's closest aides, although sources told the BBC that the prince was unaware of any link between the donations to his projects and honours.
Emily Cherrington, the foundation's chief operating officer, has taken on Fawcett's duties during the investigation.
A spokesperson for the Prince's Foundation said it "takes very seriously the allegations that have recently been brought to its attention and the matter is currently under investigation".
It added: "The scope of the Prince's Foundation investigation has been extended to cover this weekend's newspaper reports. The Trustees had already arranged an independent review by an external Senior Forensic Accountant from a 'big four' accountancy firm.
"We are incredibly proud of The Prince's Foundation's charitable work and the positive impact it has on our beneficiaries throughout the UK and across the world. Our education and training programmes, in particular, benefit more than 15,000 people every year, and provide our students with the skills and confidence needed to gain employment or start their own businesses."
Douglas Connell, chair of the Prince's Foundation, said Fawcett had offered to step down temporarily from active duties while the trustees' investigation is ongoing.
He added: "The Prince's Foundation has accepted this offer. Michael fully supports the ongoing investigation and has confirmed that he will assist the investigation in every way."