Duke of York became patron of Royal Fine Art Commission Trust earlier this year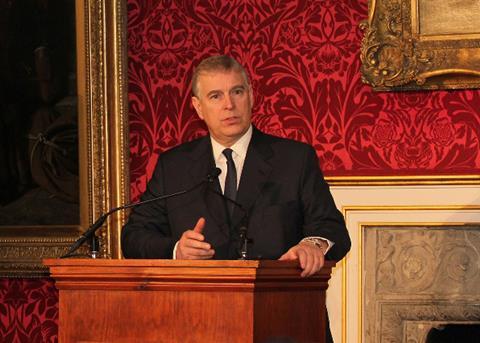 Prince Andrew has announced that he will give up his public roles following intensifying public concern about his friendship with the millionaire sex offender Jeffrey Epstein.
Among the organisations the Duke of York was involved with was the Royal Fine Art Commission Trust, which named him as its patron only six months ago.
The organisation, whose president is Norman Foster and which has Terry Farrell and Peter Palumbo on its advisory board, advises the government on public amenity and aesthetics and promotes public awareness of high-quality design.
In a statement issued last night, Andrew said he was stepping away from his public duties "for the foreseeable future" and accepted that his "former association" with Epstein had become "a major disruption to my family's work and the valuable work going on in the many organisations and charities that I am proud to support".
He added: "I continue to unequivocally regret my ill-judged association with Jeffrey Epstein. His suicide has left many unanswered questions, particularly for his victims, and I deeply sympathise with everyone who has been affected and wants some form of closure.
"I can only hope that, in time, they will be able to rebuild their lives. Of course, I am willing to help any appropriate law enforcement agency with their investigations, if required."
A statement by His Royal Highness The Duke of York KG. pic.twitter.com/solPHzEzzp

— The Duke of York (@TheDukeOfYork) November 20, 2019
Comments from Andrew flagged by the trust to mark his appointment as its patron just six months ago appeared to reference the creation of the Building Better, Building Beautiful Commission last year.
"The care shown by the Royal Fine Art Commission had its roots in the work of Prince Albert, my great-great-great-grandfather, who chaired its nineteenth century predecessor," he said.
"His aesthetic sense, insistence on the highest standards and attention to detail inspire me today. I am proud to become patron of The Royal Fine Art Commission Trust in 2019, as we mark the bicentenary of Prince Albert, at a time when there is a resurgence of interest in the need for beauty in our environment."
The Royal Fine Art Commission Trust had not responded to a request for comment at the time of publication.