NHS trust reveals redevelopment costs have been underestimated in latest risk register
Costs to complete the Liverpool hospital designed by NBBJ, which was left in limbo by Carillion's collapse, look set to rise, with the NHS trust responsible for the scheme admitting the amount of cash needed to finish the job been "underestimated".
In papers published ahead of a monthly board meeting held last week, the trust said the cost of demolition and asbestos removal work at the current Royal Liverpool hospital site had gone up while Laing O'Rourke had discovered other problems at the scheme after being appointed Carillion's replacement in October.
Now the trust has revealed that NBBJ, who were the original architects on the scheme, and Arup, which carried out a review of what Carillion had built last year, have been drafted in to review and agree the remedial solutions for the structural defects which have been found.
It said: "The trust team is working closely with Arup and NBBJ to review and agree the remedial solutions, their implementation and agreeing revisions to physical layouts where these might be required."
The scheme has already been hit by a number of issues including cracks that were discovered in structural concrete beams and non-compliant cladding which was fitted.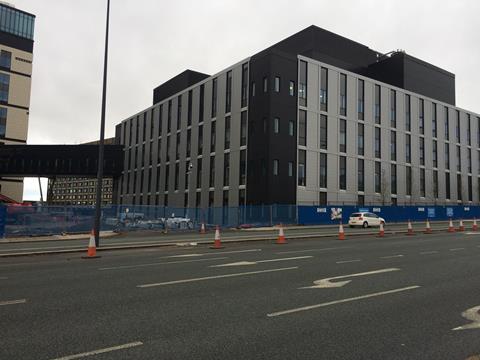 Other problems found include the existing lighting installation, where the energy saving system is not yet fully operational. This will be completed next month meaning lights can be turned off when areas of the building are not occupied.
The trust has not provided details of how much it expects to pay to finish the hospital, which was originally meant to cost £335m.
It added that it was also liaising closely with Laing O'Rourke to confirm compliance and identify "cost effective solutions".
The trust said: "Part of the early works instigated with Laing O'Rourke include surveys and assessments of existing works and installations to identify compliance with requirements and quality of works.
"An assessment of any remedial works known to date has been factored into the costs to complete and a contingency allowance has also been made."
The trust said it was working with Laing O'Rourke and would possibly change the scope of works to maintain warranties, which were agreed as part of the procurement of subcontractors.
Five main risks, which include demolition and asbestos removal works along with structural defects, had all been increased, the trust added. Then trust said there was a 20% to 50% likelihood of them occurring, adding that if they did happen severe ramifications could follow.