UK's second-biggest contractor put into compulsory liquidation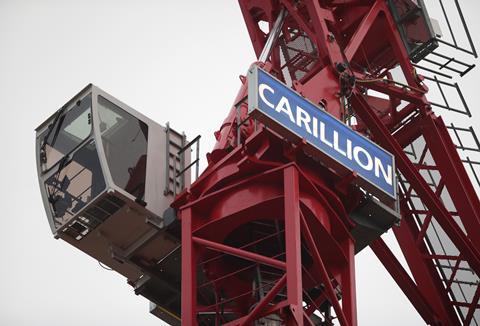 Architects are today anxiously waiting to hear how the £4bn collapse of Carillion will affect them.
The country's second-biggest contractor went into compulsory liquidation this morning, leaving thousands of jobs at risk and a host of subcontractors facing the prospect of not being paid.
Architects employed by Carillion on design and build contracts have been plunged into uncertainty over whether they will be paid.
David Lidington, minister for the Cabinet Office, who has overall responsibility for procurement, tried to reassure Carillion staff and suppliers over getting paid, saying this morning: "We will continue to maintain partnerships with responsible firms in future."
But Rudi Klein, chief executive of the Specialist Engineering Contractors' Group, said: "We are desperately seeking clarification on this point. To what extent will the government look after suppliers? What does that entail? What about outstanding payments. There's a lot of cash built up there. Does that include retentions?"
He said they had recently calculated that Carillion owed subcontractors and other suppliers up to £1bn.
Mike Cherry, the chairman of the Federation of Small Businesses, warned: "It is vital that Carillion's small business suppliers are paid what they are owed, or some of those firms could themselves be put in jeopardy, putting even more jobs at risk besides those of Carillion's own employees."
Projects BD understands Carillion was working on include One Chamberlain Square in Birmingham, which was designed by Eric Parry Architects, and the £297m Midland Metropolitan Hospital in Smethwick which was designed by HKS, Edward Williams Architects and Sonnemann Toon.
Carillion's role on the first phase of HS2 was limited to two civil engineering contracts awarded to the CEK joint venture of which it is part, along with Eiffage Genie Civil, Kier Infrastructure and Overseas Limited. The contracts involve the delivery of a stretch of the line from the north portal of the proposed Chiltern tunnels to Brackley in Northamptonshire, and on to the south portal of Long Itchington Wood tunnel in Warwickshire.
The liquidation came after discussions over the weekend between the firm, its lenders and the government failed to reach a deal to save the company.
In a statement to the Stock Exchange this morning, the firm said: "Those discussions have not been successful and the board of Carillion has therefore concluded that it had no choice but to take steps to enter into compulsory liquidation with immediate effect.
"An application was made to the High Court for a compulsory liquidation of Carillion before opening of business today and an order has been granted to appoint the Official Receiver as the liquidator of Carillion."
Accountant PricewaterhouseCoopers has been appointed as Special Managers, to act on behalf of the Official Receiver.
Carillion chairman Philip Green said: "This is a very sad day for Carillion, for our colleagues, suppliers and customers that we have been proud to serve over many years.Over recent months huge efforts have been made to restructure Carillion to deliver its sustainable future and the Board is very grateful for the huge efforts made by [interim chief executive] Keith Cochrane, our executive team and many others who have worked tirelessly over this period.
"In recent days however we have been unable to secure the funding to support our business plan and it is therefore with the deepest regret that we have arrived at this decision."
He said the government will provide funding to maintain the public services run by the firm. "We understand that HM Government will be providing the necessary funding required by the Official Receiver to maintain the public services carried on by Carillion staff, subcontractors and suppliers."
It is believed that Carillion's main creditors, which include HSBC, RBS and Santander, would only lend the firm more money if the government could guarantee some of Carillion's debt repayments – in effect asking the taxpayer to bail out a private company.
Carillion, whose new chief executive Andrew Davies was due to formally start work at the firm a week today, employs more than 40,000 people – including 20,000 in the UK.
More to follow.
Postscript
Have you been affected by the Carillion collapse? Email elizabeth.hopkirk@ubm.com or call the BD newsdesk on 020 7921 8042.