Donor pulled cash over ethical outcry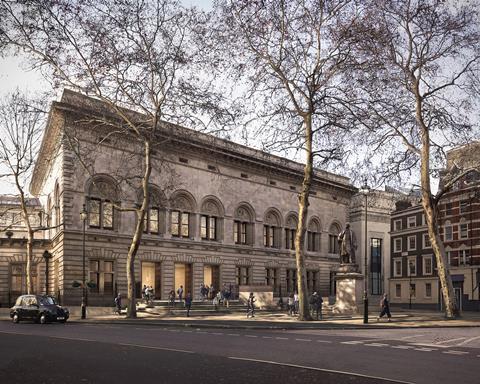 The National Portrait Gallery has insisted its £35.5m redevelopment designed by Jamie Fobert Architects and Purcell will not be hit by a high-profile donor pulling out.
The project, the biggest in the institution's history, made national headlines after the Sackler Trust pulled £1m of funding.
It came amid a row about the source of the donation. Campaigners argue the money is tainted because much of the Sackler family money reportedly comes from the highly addictive opioid painkiller OxyContin. The drug, which is made by US pharmaceutical company Purdue Pharma, is the subject of lawsuits over its safety. Millions of people in the US are said to be addicted to opioids.
US photographer Nan Goldin, who was prescribed OxyContin for tendonitis and became addicted in 2014, forced the issue by phoning NPG director Nicholas Cullinan threatening not to take part in a retrospective of her work if he accepted the money.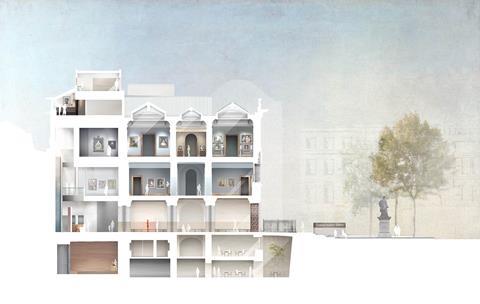 She told the Observer last month: "I will not do the show. I have been invited to have a retrospective at the National Portrait Gallery and I have told them I would not do it if they take the Sackler money."
Cullinan said he would make a final decision in March and the Sacklers are understood to have withdrawn the offer in response. The NPG is the first institution to turn down Sackler money.
The NPG said it still had £29.1m in the coffers and hoped to have "all the funds in place this spring".
A spokesperson confirmed they would continue with the Inspiring People scheme which would see a new, much more prominent entrance created in the rear, north-facing façade.
Jamie Fobert and Purcell's designs went in for planning in late January.
A spokesperson for the Sackler Trust said: "The giving philosophy of the family has always been to actively support institutions while never getting in the way of their mission. It has become evident that recent reporting of allegations made against Sackler family members may cause this new donation to deflect the National Portrait Gallery from its important work. The allegations against family members are vigorously denied, but to avoid being a distraction for the NPG, we have decided not to proceed at this time with the donation. We continue to believe strongly in the gallery and the wonderful work it does."
David Ross, chair of National Portrait Gallery, said: "I acknowledge the generosity of the Sackler family and their support of the arts over the years. We understand and support their decision not to proceed at this time with the donation to the gallery."