The British Museum is at risk of being a thoroughly unpleasant experience before you are even inside, says Gillian Darley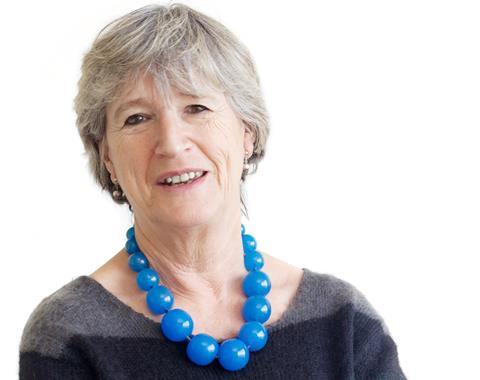 The first thing that strikes you on looking at the rendering of Jamie Fobert Architects' proposed new entrance to the National Portrait Gallery is to wonder where on earth it is. The north elevation to the Ewan Christian building of the 1890s is a sturdy reworking of an Italian Renaissance palazzo, but who had noticed that? Cut off and cluttered by a cat's cradle of railings (inserted in 1951), some enclosing fussy flowerbeds, as well as the dominant statue of Sir Henry Irving, the apron stage that Fobert has found for the new approach to the gallery (by dint of turning three ground floor windows into doors) had been all but invisible. Now a moderately generous space emerges, spilling out beyond the entrance steps and ramp, inhabited by no more than the slightly repositioned Henry Irving and some seating. The effect, assuming that Westminster council plays ball, will be a paved forecourt shading into the pavement. The lucidity of this solution takes me, now head in hands, to the British Museum.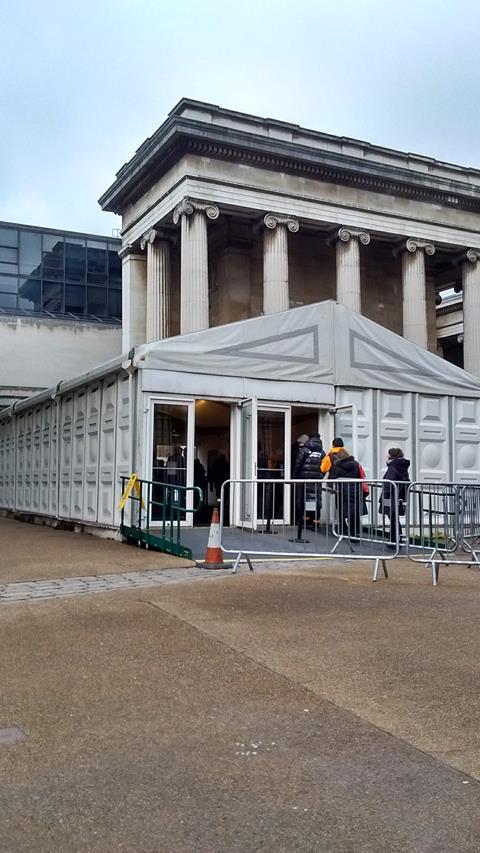 Compared with the mere 25 square metres that the National Portrait Gallery overlooks, the British Museum has its own football pitch or two to play with as well as a spectacularly assured portico to flaunt. But, faced with security, the museum has taken a series of disastrous wrong-turns, leading to a gruesome scene of white hospitality tents and snaking metal crowd barriers erected in parallel rows as if in a mainline railway station ticket office. All this has come with a regime of restrictions, including a prohibition (surely a mistake?) on photographs in the forecourt since it is now deemed a "security area" as I was told. So, what was until recently a forum of conviviality set off by some of the most handsome classical architecture in town is now an ugly, uncongenial holding pen. Nor are things much better round the back.
By such a prolonged mishandling of its visiting public, the museum is becoming increasingly off-putting for visitors as well as dispiriting for its admirers and regular users. We are becoming grouchy and reluctant to bother with it all. To commission a modest masterplan for what is bound to be a long-term situation would be money exceedingly well spent.
The Royal Academy, equally blessed with a very large forecourt, albeit shared with the learned societies, has begun to use this ancillary space in an exemplary fashion, and by this I mean it attracts visitors rather than repelling them. The Cornelia Parker PsychoBarn has been a particularly successful draw but there have been many more. If numbers are inevitably much lower, the handling of security, whether in or out, has been set up to scarcely impinge on the building. Similarly, the V&A does the job of bag searches quickly, tactfully and, pleasantly, indoors.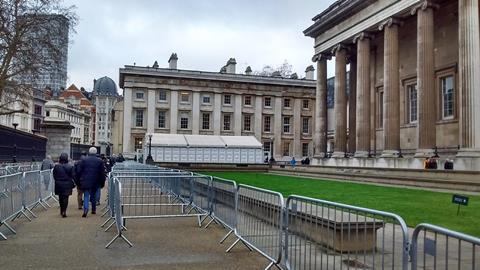 The Trustees and senior management of the British Museum might, I suggest, take a tour of the other major museums in the capital and observe their arrangements. They might then ask themselves if the museum is handling security in an optimum fashion. Money spent on this would be money very well spent, a way to charm those milling crowds of visitors rather than to antagonise them. As things stand, a visit to the British Museum risks being a thoroughly unpleasant experience before you have crossed the threshold. It is high time for those in charge to step back and think hard about how the external museum experience plays on that of the interior.