Crescent at Donaldson's project also saw historic deaf school converted into flats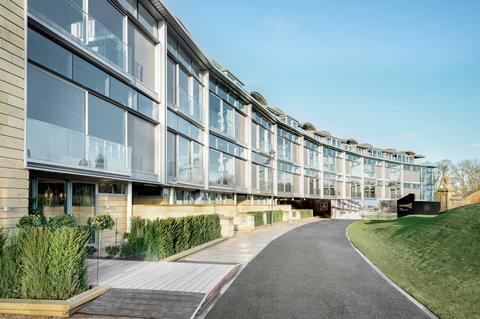 Richard Murphy has completed a crescent of 84 glass-fronted homes in Edinburgh's Unesco-listed New Town.
The project has been dubbed by its developer, Cala Homes, the most ambitious residential development in the Scottish capital for generations.
Prices range from just under £1m to more than £1.9m.
The project, which sits in 18 acres of gardens a mile from Princes Street, also involved the restoration and conversion into flats of the historic former Donaldson's School for the Deaf and Gate Lodges, by a different developer.
The 125,000sq m turreted school, one of Edinburgh's grandest most distinctive buildings, was designed in the Jacobethan style by William Playfair in the 1840s. It was opened by Queen Victoria who is reported to have said she thought it more impressive than Holyrood.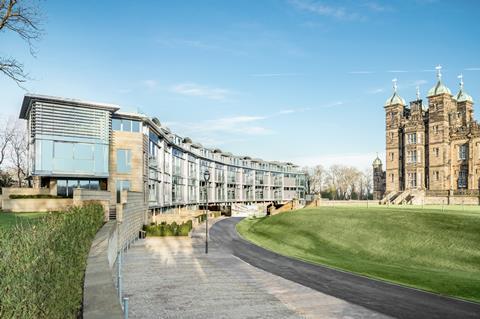 Murphy said his part of the project, The Crescent at Donaldson's, was inspired by the Georgian crescents in the surrounding New Town, a World Heritage Site.
He added: "Our guiding motto is to try and make architecture of its own time and locked into the place where it is built.
"The Gothic fantasy of Donaldson's originally sat in the countryside but almost immediately the classical Edinburgh New Town began to surround it. So its setting has already changed which allows us to think how a further change of setting might be possible.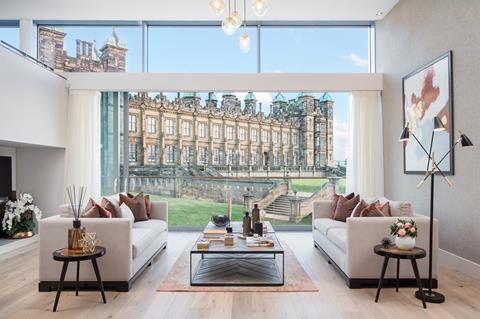 "But to root it to its location instead of an alien form we have adopted the familiar idea of the New Town crescent, (five of which are found almost next door).
"The Crescent focuses on the historic building but is contemporary in appearance and has its own life; neither are subservient to the other but rather form a complimentary juxtaposition across almost 200 years."