Emergent Design starts work on airspace project
Emergent Design has won planning for a project that will see pre-fabricated flats added to the roof of an existing inter-war block on south London.
Four two-bed flats will be built in the "unused airspace" above Marion Court, a five-storey residential block on Tooting High Street.
The scheme, for specialist developer Apex Airspace, takes advantages of £19m of funding made available by Homes England and the Greater London Authority earlier this year.
The modular homes, ranging in size from 672sq ft to 916sq ft, will be built off-site and craned into place, speeding up the construction process and reducing disruption for existing residents. The developer is also carrying out renovations to the existing building.
Marco Ortiz, director of Emergent Design said: "As part of our vision to modernise Marion Court – a striking 1930s apartment block – a contemporary, lightweight rooftop extension has been respectfully conceived to complement the building's heritage.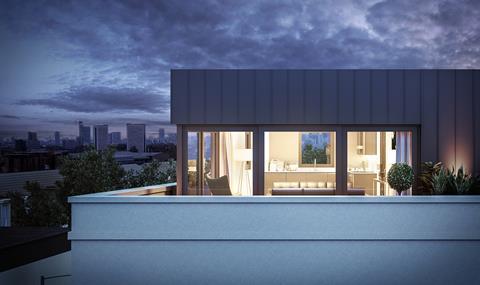 "The design and layout of the panoramic apartments has been strategically planned to frame unique views of the capital, while maximising the exposure to the natural light and ventilation."
Pre-fabricated roof-top developments are becoming an increasingly common way of adding to the capital's housing stock.
Arshad Bhatti, chief executive of Apex Airspace, said: "Our pioneering model, which doesn't encroach on the greenbelt in any way, should serve as a blueprint for other boroughs. Innovative solutions like ours are essential to addressing the chronic shortage of homes in the capital."