Housing industry lobbies for measures to help sector recover after covid-19 restrictions are lifted
Housebuilders are lobbying government to bring in measures to enable the industry to recover quickly when the coronavirus outbreak is under control.
They are pressing ministers to extend the standard duration of existing planning permissions beyond the current three years, in order to help those hit by an extended construction hiatus.
This would potentially help architects and developers well beyond the housebuilding industry.
Privately developers are expressing concern that existing planning permissions may lapse during the "lockdown" period or soon afterwards, forcing them to go to the expense of securing new permissions, risking significant further delay.
The calls, which are also understood to include asking for an extension of Help to Buy, come after a large proportion of the housebuilding industry said it is effectively downing tools for the duration of the government's "lockdown" because they are unable to ensure safe working conditions on site. Those to temporarily cease construction include the UK's biggest builders, Barratt, Persimmon and Taylor Wimpey.
The measures are part of a suite of measures that the Home Builders' Federation (HBF) is lobbying government over which are designed to ensure a "hot start" for the home building industry once current restrictions are eased.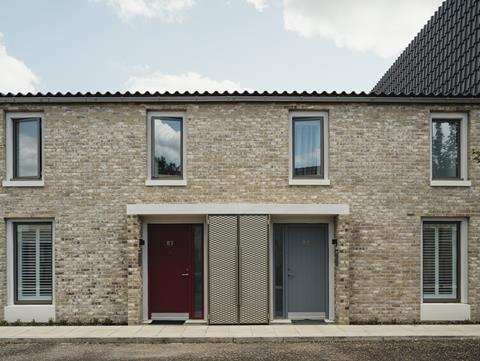 A senior housebuilding source said: "We want housebuilders to have a choice of starts in a choice of locations when this is over – a sheaf of planning consents ready to go.
"We think anything that expires should get an automatic time extension of six months. The government is considering it."
The HBF is also understood to have raised Help to Buy with ministers, with the equity loan scheme which is due to expire in 2023 seen as a tried and trusted method to quickly boost supply.
A spokesman for the HBF confirmed the body is lobbying for the extension of planning permissions, but declined to comment specifically on the issue of Help to Buy. However, he said: "When we get building again builders will need to be confident that the homes they build will find a buyer.
"As such we are discussing with government a range of initiatives that will help the economy to recover as quickly as possible by generating activity and creating jobs"
Help to Buy, introduced in 2013 by former chancellor George Osborne as an economic stimulus measure, has since seen £14bn invested in support of sales of more than 250,000 properties, and is widely credited with turning round housebuilders' fortunes in the wake of the global financial crisis.
The government's existing Help to Buy equity loan scheme is set to end in March next year, with a new more restricted version running from April next year until March 2023 when the scheme will be completely cancelled.
In the Conservatives' 2019 election manifesto the party said Help to Buy will end in 2023, but that it would "review new ways to support home ownership following its completion".
The issue of extending planning permission length also has precedent. In 2009 the then Labour government introduce an ability to extend planning permission duration in order to help sites stalled by the financial crisis. The power was allowed to lapse in 2014.
A planning industry source said: "The clear question is whether the government should now be bringing in a six-month hiatus on planning permission expiry, so viable permissions aren't lost.
Neal Hudson, founder of research firm Residential Analysts, said: "It wouldn't be a surprise if the government starts to support housebuilders. Help to Buy has been a great success in stimulating activity so that an obvious place to look. But they could also increase funding for rented sector properties, to support capacity in that sector."