Pollard Thomas Edwards becomes one of first architects to receive planning in new virtual world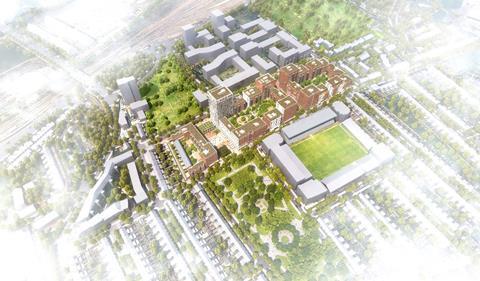 Architects are welcoming new rules that have allowed the first planning consents in history to be approved by virtual committees.
But a picture is emerging of significant regional variations in local authorities' ability to take advantage of the landmark change in the law – with some unable even to validate new applications.
The continuity of the planning system is one of architects' highest priorities as they attempt to keep working despite the unprecedented challenges posed by the lockdown.
Last week the biggest planning application in Waltham Forest's history was given unanimous consent by the east London borough's semi-virtual planning committee. Councillors gave the thumbs up to Pollard Thomas Edwards' £190m mixed-use regeneration proposals that include 750 homes, office space and health and community facilities at Coronation Square, on March 31.
As the committee meeting was held four days before the law was implemented this weekend, the councillors had to be in the same room so they sat 2m apart in a council building. Everyone else, including planning officers, applicants and specialist consultants attended the meeting virtually and the project representations were all broadcast publicly via video-conference software.
Until the Coronavirus Act was passed last month it was a legal requirement for committee members to meet together in person. That has now been temporarily suspended. The final step in this legal process was the adoption by Parliament of temporary secondary regulations, which happened on Saturday, allowing councils in England to hold public meetings virtually by video or telephone conferencing.
Communities secretary Robert Jenrick said: "Local authorities are the backbone of our democracy and they are playing a vital role in the national effort to keep people safe. This change will support them to do that while maintaining the transparency we expect in local decision making."
Already several other councils including Westminster, Hackney, Epping, Wandsworth and Richmond have declared themselves ready to hold virtual planning committees. Many more are able to hold pre-app meetings remotely.
Andrew Gale, chief operating officer of planning-led property consultancy Iceni Projects, said more councils were catching up all the time, but that there were several stumbling blocks, with some simply not having the equipment and others either not having officer capacity or having to switch planning staff to more urgent pandemic-related roles.
He knew of at least one authority in the north-west without the capability to accept and therefore validate new planning applications.
"That's a concern," he said. "Some councils just weren't prepared for remote working so haven't got the support from officers to get this up and running."
Another issue was the concern among many local authorities that remote decisions could be challenged by opponents of schemes further down the line.
"It's a question of how robust and open to scrutiny the committee is," said Gale. "Most councils allow objectors to speak for three minutes and if they feel they've been unable to do that they may seek a judicial review.
"It comes down to how meetings are advertised and if the administration is done correctly there shouldn't be an issue to my mind. But the fear of being challenged can be enough to scare a local authority into not adopting virtual committees."
Westminster would be the council to watch on that, he said. With such a large number of high-value applications it would be sure to proceed with caution.
Some councils, such as Merton in south-west London and Windsor and Maidenhead, have instead prepared emergency powers and have resolved to give officers full delegated authority to determine planning applications, meaning committees are not required.
However other authorities including Southwark in south London have taken the view that this could be undemocratic and that remote meetings are the better option.
Gale predicted there would be lasting benefits for the development industry with so many more councils and other participants becoming comfortable with technology.
Planning barrister Christopher Young QC said the new rules, which allow meetings to happen remotely as long as councillors and public can hear and if possible see each other, would "to some extent bring the antiquated planning system kicking and screaming into the 21st century".
He added: "In my view, these are important not only for local council meetings, but what they also suggest is acceptable for other public forums in planning such as planning inquiries and hearings and, potentially, public consultation."
The announcement was also welcomed by Steven Charlton, managing director of Perkins and Will, who dubbed the old system "outdated and ineffective".
"This step forward … will help speed up the process as we all commit to a different way of progressing," he said.
But he added: "With this unprecedented leap to digital working, there is a great demand for policy to adapt to suit the diverse needs of the property sector, so that we can continue with the intricate planning procedures for our ongoing projects."
Russell Pedley, director and co-founder of Assael Architecture, said keeping the planning ball rolling was essential.
He added: "While adapting to digital communications may have taken the sector a bit of time, we have already successfully carried out electronic presentations to committees, council members and officers to move projects forward. Jenrick's virtual planning regulations further legitimise this movement to digital to ensure we can continue, while construction work inevitably slows."
Postscript
This story has been updated to include more details of how the PTEa scheme was approved and to correct an error made in good faith based on the information received about the location of the committee members.