Firm expects consents to fall – but announces funding for van Heyningen & Haward and Fletcher Priest projects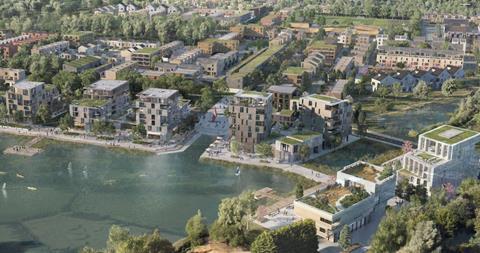 Residential developer Urban & Civic said it expected to see reduced numbers of planning consents given to proposed housing schemes as local authorities grapple with how to hold planning committee meeting under lockdown.
But there was good news for its Rugby secondary school designed by van Heyningen & Haward, which has secured £35m from the Department of Education, and a 6,500-home scheme near Cambridge masterplanned by Fletcher Priest.
Citing the physical challenges of putting together planning meetings when committee members are supposed to be keeping 2m apart, it said the number of applications approved would see a "substantial" fall over the next few months, before picking up again at the mid-year point.
In a Stock Exchange statement, the developer also said housebuilders had downed tools across virtually all of its strategic residential building sites. It said only a small minority of housebuilding customers were still able to build "due to the logistical and supply chain challenges arising from social distancing". Last year the firm was working on nine schemes, with delivery targets of up to 33,500 homes.
But U&C said its civil infrastructure work, including land remediation and new roads and schools, was continuing, thanks to the greater involvement of heavy machinery and working environments giving staff enough space to operate.
The group also said it had sealed two new loans totalling nearly £97m last week. It received £61m from Homes England for enabling infrastructure at the firm's 6,500-home scheme at Waterbeach near Cambridge, which was masterplanned by Fletcher Priest and received a resolution to grant planning last year.
It also secured £35m from the Department of Education to fund a new secondary school at Houlton near Rugby wihch is currently slated to open in September 2021 as part of a 6,200-hope development. Architects van Heyningen & Haward designed this project, converting a grade II-listed former radio station which was a centre of global communications in the 1920s, and which conveyed the world's first transatlantic phone call in 1927 between London and the US.
Last week Parliament approved the Coronavirus Act which - once secondary regulations are in place - will allow local authorities to hold planning committees remotely if they have the resources.