Plans outlined as part of net zero strategy for reducing carbon emissions across economy
The government has announced £440m in new funding for green construction projects as part of another raft of net zero announcements.
The net zero strategy, published yesterday, sets out how carbon emissions will be reduced across the economy as part of the government's net zero goals.
It includes £180m for the development of plants which can create sustainable aviation fuel, which is made from a range of materials including everyday household waste, flue gases from industry and captured carbon.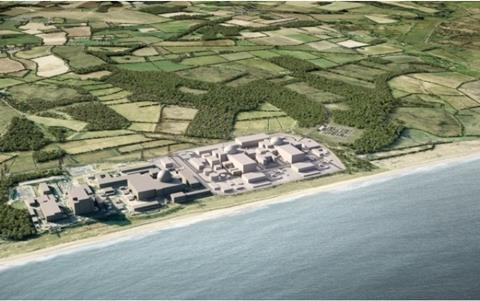 The government said the fuel, which produces more than 70% less carbon emissions than traditional jet fuel over its lifetime, could account for 10% of aviation fuel by the end of the decade.
Funding of £140m for two new carbon capture clusters has also been announced. The clusters, which will be used for hydrogen production, will be located on the border of north Wales and Merseyside and in north-east England.
The strategy aims for the amount of carbon captured to increase from 3 MtCO2 per year to 6 MtCO2 by 2030 and 9 MtCO2 per year by 2035.
And £120m has been earmarked for the development of small modular nuclear reactors that can be built in factories.
The government is eyeing a number of potential sites for the reactors, including Wylfa in Anglesey where two nuclear reactors have been decommissioned in the past decade.
But an expected decision on the Sizewell C nuclear reactor has been delayed, possibly until the chancellor's spending review next week.
The Department for Business, Energy and Industrial Strategy has previously said negotiations over the £20bn scheme, which has come under fire from campaigners for its hefty price tag, would be subject to agreeing a value-for-money deal before a final decision to proceed can be taken.
Other announcements include an extra £350m for the electrification of vehicles and an added £620m for electric vehicle infrastructure, including charge points.
The net zero strategy came on the same day as the release of the heat and buildings strategy, which outlines how the UK's 30 million buildings will be decarbonised.
Under the plans, homeowners will be given £5,000 grants towards the cost of heat pumps from April next year.
The government has also proposed forcing gas boiler manufacturers to sell a required proportion of heat pumps from 2024.
And mortgage lenders could be obligated to disclose the energy performance of the properties they lend to.