After fierce opposition, redesigns and a pubilc inquiry Chris Pincher is set to make planning decision at end of July
The future of David Adjaye's Holocaust Memorial, set to be located in the shadow of the Palace of Westminister, will be decided by the housing minister next month.
Christopher Pincher will make a final decision over granting it planning permission before the end of next month, a year and a half since it was called in for ministerial approval in November 2019.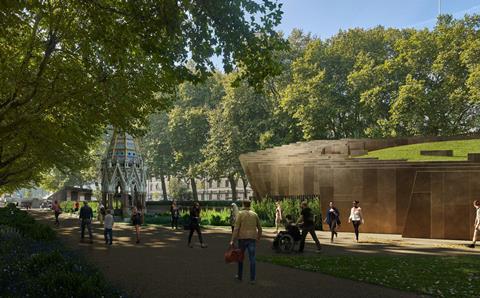 The design, by Adjaye Associates with Ron Arad Architects and Gustafson Porter & Bowmanhas, has been reworked several times in a bid to minimise its impact on Victoria Tower Gardens next to Parliament and the wider Westminster Unesco World Heritage Site.
The detractors of the project have argued it would be a security risk and a design disaster.
Adjaye, who was awarded the 2021 Royal Gold Medal last month, was one of several witnesses to give evidence to the public inquiry into the plans last October.
The planning inspector's report, which was based on the inquiry, was submitted to Pincher at the end of April.
The inspector's report, which drew on design advice from Bam, will be published alongside the minister's decision when it is issued.
But even if the scheme is approved there is no guarantee it will push ahead without securing £25m of private funding.
In a written response to a parliamentary question, local government minister Luke Hall told MPs that funding arrangement would need to be in place before main construction begins.
The design team beat a stellar shortlist to win the job, including John McAslan & Partners, Foster & Partners, Studio Libeskind, Zaha Hadid Architects and Caruso St John.
The memorial was announced in 2016 by then prime minister David Cameron who said it would be dedicated to the six million Jews and other victims murdered by the Nazis in the Second World War.