Virtual ceremony beamed around the world features Barack Obama and Bono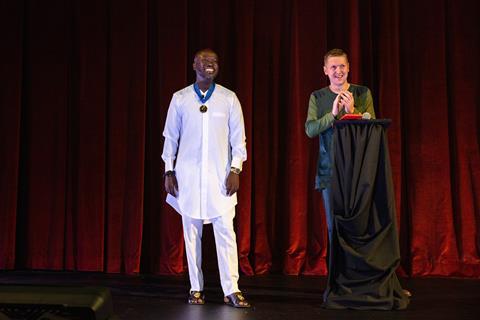 David Adjaye has been presented with the 2021 Royal Gold Medal for Architecture at a ceremony in Accra, watched by a global audience online.
The medal was presented by Iain Walker, the British High Commissioner to Ghana, on behalf of the Queen at the British High Commission in Accra.
Four presidents, three Pritzker Prize winners, two Gold Medallists and a rock star were among those who paid tribute to the Ghanaian-British architect, the first black recipient of the award and, at 54, the youngest since Patty Hopkins in 1994.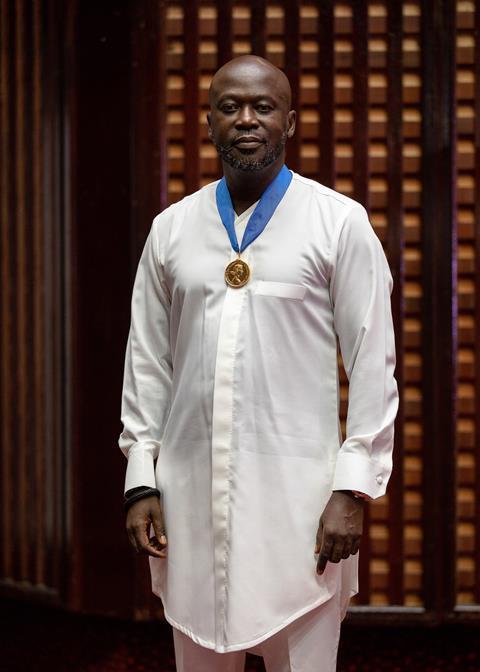 Former South African president Thabo Mbeki, whose presidential library and archive Adjaye Associates is designing, spoke for a continent when he expressed great pride that "a venerable British institution, the RIBA which is more than 170 years old, is for the very first time recognising a fellow African as an outstanding architect".
Ghanaian president Nana Addo Dankwa Akufo-Addo, who commissioned Adjaye to design the nation's new cathedral which is currently on site, said the achievement brought "renown and glory to this country".
Paul Kagame of Rwanda described Adjaye's work as strikingly beautiful and expressed his hope the country would work with him on a "landmark project".
And Barack Obama, who described the experience of stepping inside the Smithsonian National Museum of African American History and Culture in Washington DC (2016) as "genius, pure and simple", predicted "the best is yet to come".
Bono, the lead singer of U2, quoted his own lyrics, "If there is a dark / Now we shouldn't doubt / And there is a light / Don't let it go out" and said he could have written them for Adjaye, with whom he collaborated on the Aids charity Project Red.
"This great man, his work, however dark some of the themes, just seems to be shot through with light," he said.
Others offering their congratulations included last year's winners Yvonne Farrell and Shelley McNamara of Grafton who described his work as "masterful" and their fellow Pritzker Prize winners Eduardo Souto de Moura and Balkrishna Doshi who praised the way Adjaye connects his architecture with his heritage, culture and psychology.
Ruth Rogers, wife of Richard Rogers who won the Gold Medal in 1985, toasted him with champagne at the River Café in Hammersmith which she originally founded as RSHP's works canteen.
Adjaye, who was knighted in 2017, said: "It's incredibly humbling and a great honour to have my peers recognise the work I have developed with my team and its contribution to the field over the past 25 years.
"Architecture, for me, has always been about the creation of beauty to edify all peoples around the world equally and to contribute to the evolution of the craft.
"The social impact of this discipline has been and will continue to be the guiding force in the experimentation that informs my practice. A heartfelt and sincere moment of gratitude and thanks to all the people who supported the journey to get to this moment."
RIBA president Alan Jones, who chaired the selection committee, said: "At every scale, from private homes to major arts centres, one senses David Adjaye's careful consideration of the creative and enriching power of architecture. His work is local and specific and at the same time global and inclusive.
"Blending history, art and science he creates highly crafted and engaging environments that balance contrasting themes and inspire us all. I believe his both practising and teaching in schools of architecture has significantly enriched his work. His artistic and social vision has created public projects that perfectly demonstrate the civic potential of architecture – fostering empathy, identity and pride. David's contribution to architecture and design globally is already astounding, and I am excited that we have so much more of it to look forward to."
Adjaye Associates: Projects
Adjaye Associates are most well-known for the Smithsonian National Museum of African American History and Culture, in Washington, DC (2016), where they were lead designer of the Freelon Adjaye/Bond SmithGroup. Other completed projects include Ruby City, an art centre in San Antonio, Texas (2019); the Alara Concept Store in Lagos (2016); the Sugar Hill Mixed Use Development (housing, museum, community facilities and offices) in Harlem, New York (2015); the Aishti Foundation, a mixed use retail and arts centre in Beirut, Lebanon (2015); two neighbourhood libraries in Washington, DC (both 2012); the Moscow School of Management Skolkovo in Russia (2010); the Museum of Contemporary Art in Denver, Colorado (2007); the Nobel Peace Centre in Oslo, Norway (2005); Rivington Place arts centre in Hackney, London (2007); and the Idea Stores – two community libraries in London (2004, 2005).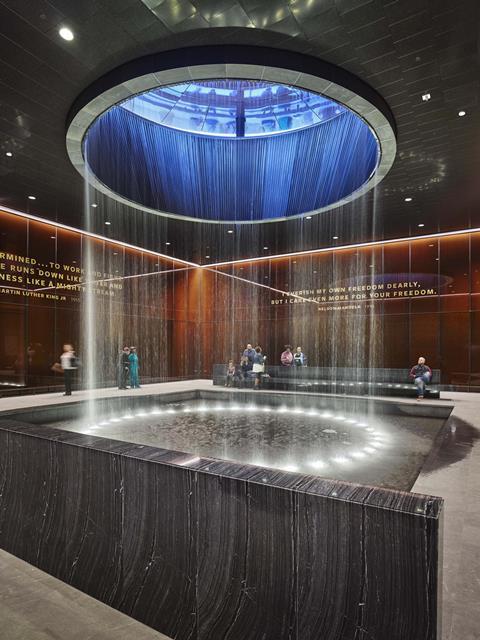 Current projects include a new home for The Studio Museum in Harlem, New York in collaboration with Cooper Robertson; 130 William, a high-rise residential tower in New York's financial district; the International Finance Corporation (IFC) in Dakar, Senegal; the Princeton University Art Museum in Princeton, New Jersey in collaboration with Cooper Robertson; the George Street Sydney Plaza in Sydney, Australia; The Abrahamic Family House, an interfaith complex in Abu Dhabi; Winter Park Library and Events Center in Winter Park, Florida; the UK Holocaust Memorial and Learning Centre, London led by Adjaye Associates, with Ron Arad Architects as Memorial Architect, and Gustafson Porter + Bowman as Landscape Architect; the Royal Benin Museum in Benin City, Nigeria; the National Cathedral of Ghana in Accra; and the Thabo Mbeki Presidential Library in Johannesburg, South Africa.
Source: RIBA