Prefabrication will allow design to adapt to rural and urban locations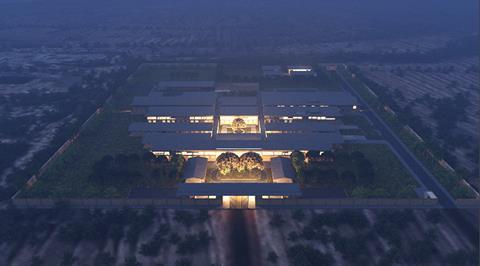 Adjaye Associates has broken ground on the first of 101 hospitals the practice has been commissioned to design in Ghana.
The 101 district hospitals – all based on a single prefabricated model – will be located across the country as part of Agenda 111. A major healthcare infrastructure project, this will also see two psychiatric hospital and seven regional hospitals built, as well as one redevelopment of an existing psychiatric hospital in the capital, Accra.
Adjaye Associates was commissioned by the Hospital Infrastructure Group (HIG) on behalf of the Ghanaian government. It is working with local practice Sutherland & Sutherland which is acting as design coordinator.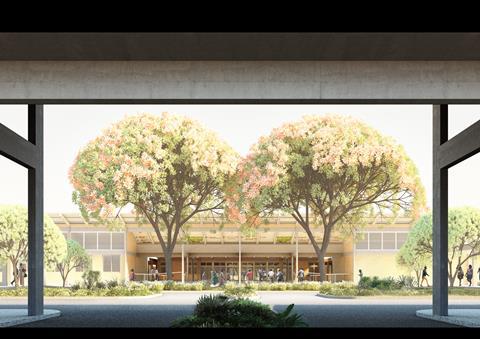 Ghana's president Nana Addo Dankwa Akufo-Addo, was one of four presidents who paid tribute to the practice's Ghanian-British founder, David Adjaye, when he received the RIBA Royal Gold Medal in May, saying he had brought "renown and glory to this country". Adjaye is also designing the nation's cathedral.
Akufo-Addo wants Agenda 111 to turn Ghana into a regional centre of excellence and a destination for medical tourism.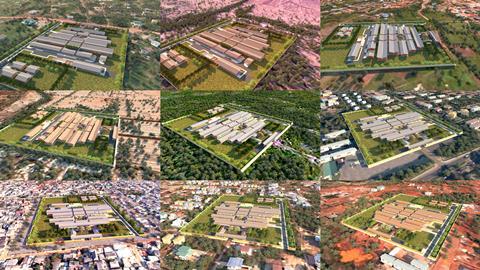 Adjaye said the design concept began with the "denkyem", a Ghanaian symbol depicting a crocodile which is celebrated for its adaptability because, as a proverb has it, it "lives in the water yet breathes the air".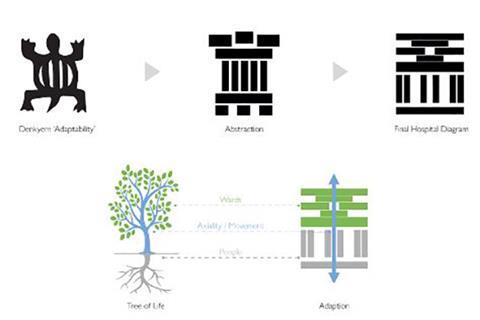 The hospital design will need to adapt to more than 100 locations, rural and urban, so will employ a prefabricated system and local materials to allow efficient reproduction and to minimise carbon use, he said.
Each 8,500sq m hospital will be a single-storey campus containing an accident and emergency department, surgical, paediatric, maternity and isolation wards, surgery and outpatients units, a pharmacy, labs plus other facilities such as a offices, a mortuary, laundry, energy centre, kitchen and accommodation for staff and families.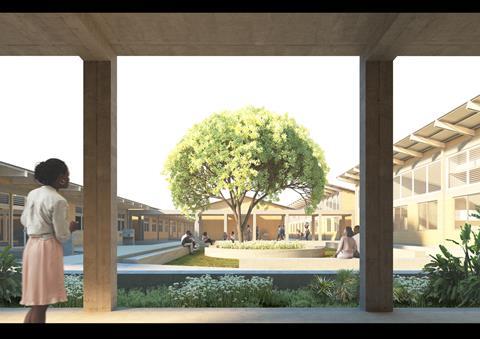 Adjaye said he wanted to reject sterility and the "poor industry standard of hospitals where visitors often feel lost on arrival". An entrance canopy will help orient people and direct them along a spine containing a central garden and other "nature-filled public spaces" which punctuate the plan.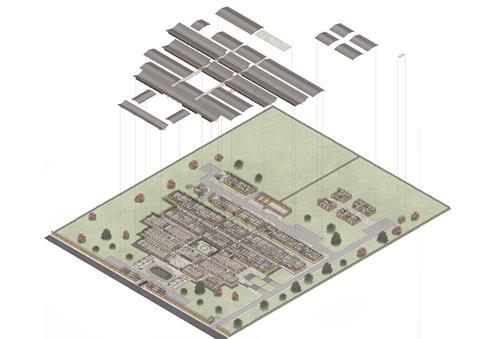 Wards will have butterfly roofs to promote natural light and cross-ventilation, reducing the need for artificial light and cooling, while other facilities such as theatres will have gable roofs with long overhangs to protect against the sun and provide a more controlled environment.

Both roof types will harvest rain water and provide an insulated shell to minimise heat gain on the building interiors, said the practice.


Adjaye said: "By approaching the hospital as more than just a place for the provision of medical services, the design aims to unlock the potential of this ambitious initiative by repositioning the hospital as a piece of community infrastructure that embodies sustainability and efficiency and generously provides green spaces to facilitate wellness and healing."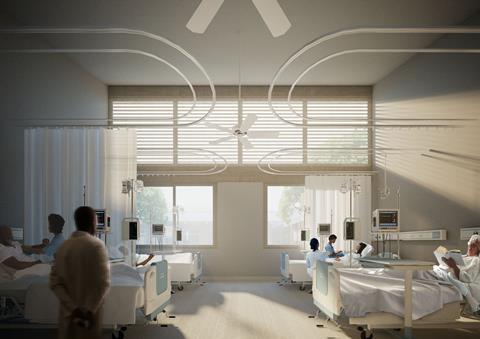 This week's ground-breaking ceremony took place in Ghana's southern Ashanti region.