$1.6bn facility designed with HDR incorporating lessons from pandemic
Foster & Partners has completed one of the largest hospitals in the US.
Known as the Pavilion, the 17-storey, 108m-tall building is located at the Hospital of the University of Pennsylvania in West Philadelphia, bridging the academic and medical campuses and creating a new square and gardens.
The $1.6bn and 140,000sq m facility is the largest capital project in the university's history, the largest hospital project in the Philadelphia region, and one of the largest hospitals in the United States.
Its proximity to research laboratories and specialised treatment facilities is intended to enable collaboration and patient-focused study.
Norman Foster said it had been designed "completely redefine the future of healthcare".
It contains 504 private patient rooms and 47 operating rooms, providing in-patient care for cardiology and cardiac surgery, medical and surgical oncology, neurology and neurosurgery and transplant surgery. It is also home to a two-storey emergency department.
A huge operation to move all the patients from the previous facility was years in the planning and involved staff and hundreds of volunteers.
The building's curved facade is meant to reference the rotunda of the adjacent University of Pennsylvania Museum which it dwarfs, while the colour and form are taken from the historic campus architecture.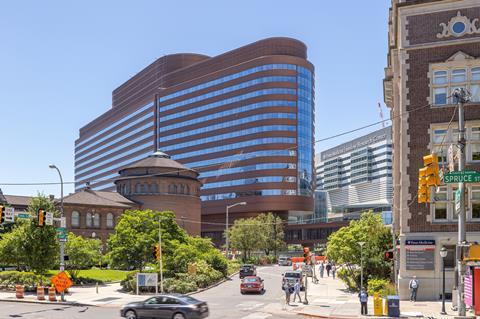 Chris West, a partner at Foster & Partners, said: "The Pavilion knits the medical campus with the overall university through its materiality and urban planning. Its form is singular and sculptural, creating a recognisable new marker on the skyline of the Penn campus.
"At ground level, spaces flow from the street into the building, creating an inviting experience for pedestrians and providing a welcome contrast to the dense development of hospital buildings that surround the area."
Human experience was key to the design, he said, with natural light and views prioritised, space for relatives to stay and controls that allow patients to customise their experience of rooms.
West said the pandemic had emphasised the need for hospitals to be able to adapt quickly and the Pavilion's 72-bed floors could be broken down into smaller units, while the 504 in-patient rooms could be easily used for multiple purposes, from medical-surgical to intensive care.
Rooms include an interactive footwall that integrates entertainment, room controls, communications and medical record information.
It was awarded LEED Gold and Fosters said it was predicted to save more than 14% in annual energy costs compared to a code-compliant hospital.
HDR was the specialist healthcare architect. The project was carried out by the integrated PennFirst team which also featured BR&A, LF Driscoll, Balfour Beatty and Penn Medicine.
Plans, sections and detail drawings courtesy of Foster & Partners:
Postscript
All photographs courtesy of Dan Schwalm © 2021 PennFirst