Councillors ignore officers' advice and throw out 14-storey office scheme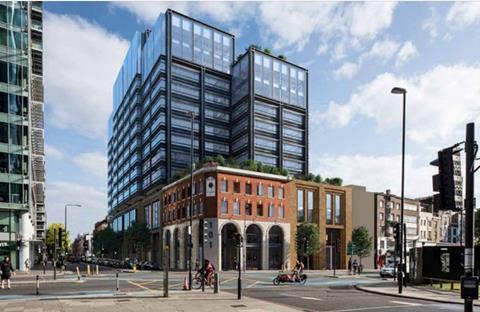 Tower Hamlets has rejected Foster & Partners' plans for a 14-storey office block on the corner of Whitechapel High Street and Commercial Street.
Councillors turned down the design at a planning committee this week because of reasons such as the height of the scheme, demolition of heritage assets, and impact on day and sunlight for nearby residents.
The knockback came despite Fosters revising a previous, 20-storey design from 2018 at the start of this year because it had also attracted much criticism.
Alliance Property Asia's application for the 0.67ha site sought full planning permission to demolish an existing terrace on the site and an annexe to the Canon Barnett School. The 14-storey building would be partly constructed on part of the school's playground, which would be relocated to the site of a public car park. Councillors also objected to this loss of educational floorspace.
Officers acknowledged that the office building would be a tall building outside of a tall building zone but added it was of "good design" and recommended the planning application was granted. They also recognised "there would be significant impacts to a number of properties surrounding the site".
Their report for the planning committee said the scheme was "finely balanced". They wrote: "Officers consider that the public benefits in terms of the life time of the development, affordable workspace, a heritage mitigation s106 contribution of £1m to secure heritage directed improvements to the facades and shopfronts to neighbouring parts of the conservation area, public realm improvements and the removal of the public car park, (which currently attracts anti-social behaviour) outweigh the identified harm to heritage assets."
Although the replacement school playground would be "significantly more overshadowed than the one in its current location", the officers noted, "this would be balanced against markedly improved air quality" in the playground.
Following a public consultation, the council received 218 letters of objection to the scheme, including from the Victorian Society, Spitalfields Trust and Save Britain's Heritage.
Conservative councillor Peter Golds said: "The building is overbearing and has no aesthetic value."
There are no listed buildings on the site but it is near the grade II* Whitechapel Gallery, as well as Whitechapel Library and Toynbee Hall.
Foster & Partners has been contacted for comment.