Project combines three pavilions clad in rose-coloured concrete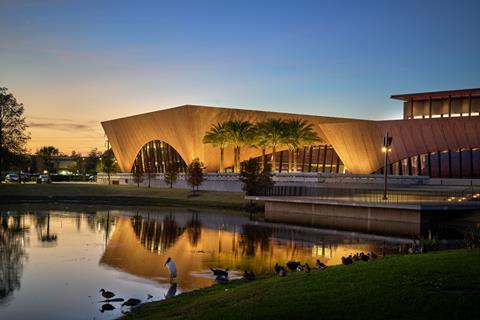 Adjaye Associates' $41.7 million Winter Park Library and Events Centre in Florida has opened.
The project, a public-private partnership with the City of Winter Park, consists of three separate pavilions located on the Martin Luther King Jr Park.
It combines a two-storey library, an events centre with a rooftop terrace and entrance portico, with all three clad in a rose-coloured concrete.
Adjaye Associates said the campus is envisaged as a 'micro-village' and cultural hub that embodies the values of the park's namesake, providing a space for "community empowerment and edification".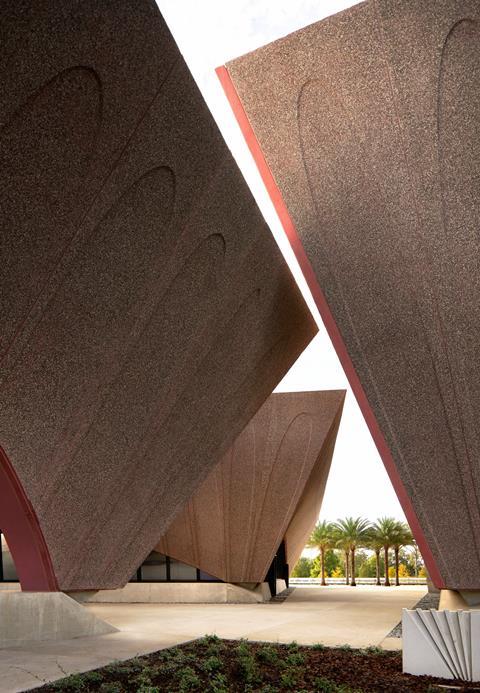 It replaces a former library and civic centre buildings, providing a 30% youth collection and 50% more meeting space.
The library is supported by four timber-lined cores which frame an open-plan layout, featuring an indoor auditorium, education spaces and an entrepreneurship center.
All exterior materials used in the scheme are registered in Florida, with all pre-cast facade materials sourced with 25 miles of the site.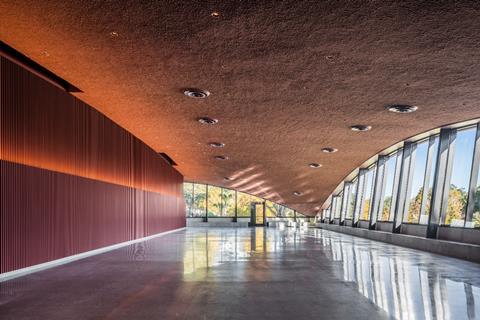 Adjaye said: "It's been humbling and inspiring to work together with the City of Winter Park and the many local champions of this project to realize this 21st century prototype of a multi-purpose knowledge campus in the public realm.
"As a centerpiece of the revitalized [Martin Luther King] Jr Park, the new campus is designed as a robust space for community gathering, edification and empowerment."
The Library opened to the public on Monday this week, while the events centre is scheduled to open on January 3.
Other civic projects completed by Adjaye in the States include the Ruby City art centre in Texas, the Smithsonian National Museum of African American History and Culture in Washington DC, and the Princeton University Art Museum in New Jersey.