Willmott Dixon's housing arm refutes 'many' of Hackney's claims over defective building work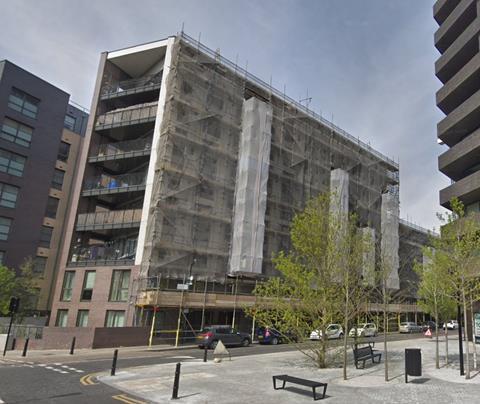 A block of flats designed by Karakusevic Carson Architects is at the centre of a bitter row between Willmott Dixon's housing arm and Hackney council over defects.
Bridport House was built by Willmott Partnership Homes division eight years ago as part of the Colville estate masterplan which also involved work by David Chipperfield Architects.
Hackney council has threatened to launch legal action over construction defects on the building, while the contractor said it did not accept "many" of Hackney's claims.
The council said it would be looking to move 41 families from the block while the remedial work was being done to remove "potentially combustible insulation" used in the construction of the building in 2011.
Concerns about the insulation were raised during a separate project on the building in March this year, the council said, and other defects were being investigated from April.
In a statement Hackney said investigations had revealed "a series of other serious construction defects, including missing barriers to stop the spread of smoke and fire, as well as flawed brickwork, balconies and windows".
The council said the insulation was not ACM cladding – the type used at Grenfell Tower – and differed from that being removed on blocks in Hackney and elsewhere "because it is part of the original construction of the building, rather than retrospectively fitted onto the exterior of an older block".
It had been thought residents could stay put while the work to fix the problems was carried out, but Hackney said after talks with the London Fire Brigade and the Health & Safety Executive it now planned to move residents out gradually over the next 12 months.
Once residents have begun to leave the building Hackney said it would take around two years to carry out the repair work.
Philip Glanville, Hackney's mayor, said: "Moving residents from homes we all hoped would be new and permanent is not an easy decision, but our first priority is their safety, and we have decided that at Bridport House, doing this work while the building remains occupied would create an unacceptable risk.
"We will do everything we can to ensure that this process is as smooth as possible, with a dedicated team and independent advice to support tenants into the best homes we have available and a package of compensation that recognises the immense upheaval to their family lives.
"We will be taking legal action to hold those responsible for these failures to account. We also should have done a better job."
But in a statement Willmott Partnership Homes said: "Willmott Partnership Homes is disappointed at the way the problems at Bridport House have been portrayed by Hackney council. This is an extremely complicated matter, significantly exacerbated by various aspects of the Building Regulations recently being reinterpreted following the Grenfell tragedy.
"For example, the insulation the council refers to was widely accepted as complying with Building Regulations at the time it was installed, and indeed was specifically approved as being compliant by the council's Building Control team. Both the cross-laminated timber frame structure and the insulation were detailed within the council's tender specification upon which the building contract was entirely based.
"The council has made some very strong statements, many of which we do not accept. However, in view of the threat of legal action, we are prevented from responding to them in detail at this stage. Notwithstanding that point, we too want to say how sorry we are that matters have turned out in this way, and of course for the concern this will have caused to the residents at Bridport House."
Willmott Partnership Homes said it had an agreed works programme to address issues relating to the brickwork cladding lined up to start in January this year, but a spokesman said the council opted not to conduct the work.
Hackney acknowledged a draft programme to complete brickwork repairs had been in place, but said before work started it had discovered the cavity wall insulation issue.
A spokesman said: "Following this, we commissioned consultants to do a more detailed survey of the building and discovered many other defects in addition to the brickwork problems we were already aware of. The need to now remove all brickwork to access the cavity wall insulation, so we can remove that, renders that previous repair programme obsolete."
Willmott Partnership Homes also said there was "no suggestion" that an incident in February this year which saw a metal sheet fall from the underside of a second-floor balcony on the block and reported in the local press at the time was the result of work quality issues.
Willmott Partnership Homes operation is being wound down as Willmott Dixon transfers its housebuilding activity into another group, Willmott Dixon Construction, as part of a reorganisation programme.
Karakusevic Carson Architects has been contacted for comment.