RIBA's Jane Duncan says south London blaze exposes inadequacy of government's building reg reforms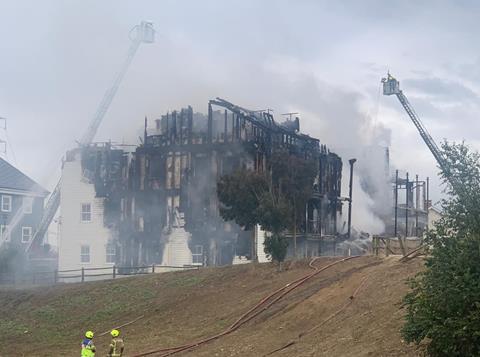 Architects have voiced concerns that the latest major blaze at a timber-framed housing development could wrongly demonise a "perfectly safe" building material.
Fire destroyed a four-storey apartment building at Worcester Park in the early hours of yesterday in a blaze that firefighers said was "well-developed and intense" by the time they arrived on the scene.
The blaze at the 10-year-old block, part of the New England-styled The Hamptons development masterplanned by JTP, came three months after fire destroyed a wood-clad apartment building at Barking Riverside designed by Sheppard Robson.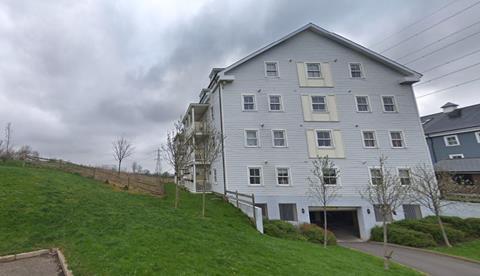 London Fire Brigade said no injuries were reported in the latest blaze, but that around 125 firefighters had been called to the scene and that the fire had taken five hours to bring under control.
Jane Duncan, who chairs RIBA's expert advisory group on fire safety, said the Worcester Park fire was evidence that the government's ban on combustible materials on the exterior of residential buildings of 18m and above "may need to be extended".
The cause of the fire is still under investigation and the architects BD spoke to were not involved with the design of the affected building. However, an industry source who was involved with the scheme confirmed the structure was timber-framed.
Ash Sakula Architects founding partner Robert Sakula said councils and other social landlords had exhibited a marked push away from exterior cladding or components that were in any way combustible in the wake of 2017's Grenfell Tower fire.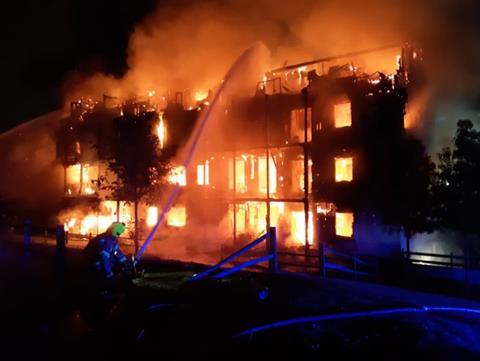 "Since the Grenfell fire, flooring and balconies, timber trim, anything at all plastic – plastic drainpipes, they're out," he said.
But he stressed that structural timber was a separate issue. "It's not that there is anything actually wrong with timber frame if it's done properly. Fire shouldn't be able to get into the cavity," he said.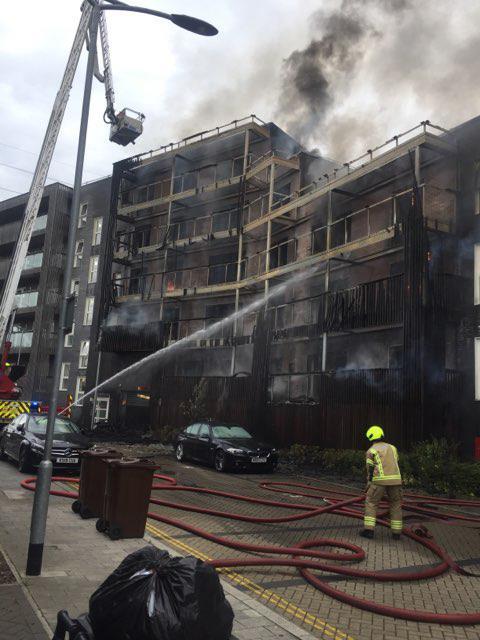 Annalie Riches, co-founder of Stirling Prize-shortlisted Mikhail Riches, agreed. "I hope it doesn't stop people building with timber frames," she said.
Both Sakula and Riches said they feared that construction contracts – particularly design-and-build contracts – could result in flaws in the delivery of buildings that were not built to the standard to which they were designed.
"In lots of design-and-build projects, the architects are not even wanted on-site," Riches said. "If it was design and build, you wouldn't necessarily know if what you specified had been used."
Rab Bennetts, of Bennetts Associates, said there was still a "high degree of interest" in construction using sustainable timber.
"We only have a handful of clients at any time and they're always extremely careful about doing the right thing," he said.
Sakula said that in a housing market where potential purchasers were keen to "buy anything" in many parts of the UK, the future of timber-framed buildings could depend on the willingness of insurers to cover them and of mortgage providers to lend against them.
JTP masterplanned the 645-home The Hamptons scheme for developer St James, which is part of the Berkeley Group. It is built on a 25ha site that used to be ocupied by the Worcester Park Sewage Works.
The practice told BD that while it had secured the initial planning permission for the development and prepared subsequent revised detailed planning applications for some phases, the design and detailed planning application for the building where fire broke out had been the work of another architect.
JTP managing partner Marcus Adams said everyone at the practice had been shocked at the seriousness of the fire.
"We share a sense of relief that nobody was injured, and a sympathy for those residents who have lost their homes," he said.
"We hope that investigations will provide an understanding of the reasons behind the cause and the spread of the fire, and help inform future legislation and guidance."
RIBA's full Worcester Park response
"It is very sad to see another terrible fire occur. I am relieved to hear there has been no loss of life, but the loss of all personal possessions is awful for those involved and my thoughts are with them. While we have welcomed the government's ban on combustible materials for residential buildings over 18m, this four storey building fire demonstrates that the application of this regulation may need to be extended.
"The RIBA has consistently argued for sprinklers to be a requirement in all new and converted residential buildings, and to be retrofitted in existing residential buildings above 18m when they are being refurbished. This fire demonstrates the need for sprinklers in residential buildings, and fire warning systems in individual flats, not just in communal parts. However, while important, sprinklers should not be used to compensate for other crucial fire safety measures."
Jane Duncan, chair of the RIBA expert advisory group on fire safety
Postscript
This story was updated at 18:00 on 11 September 2019 to include a response and clarification from JTP. BD originally sought comment from the practice on the day of the fire