Scottish architect to stand on a climate and collaboration platform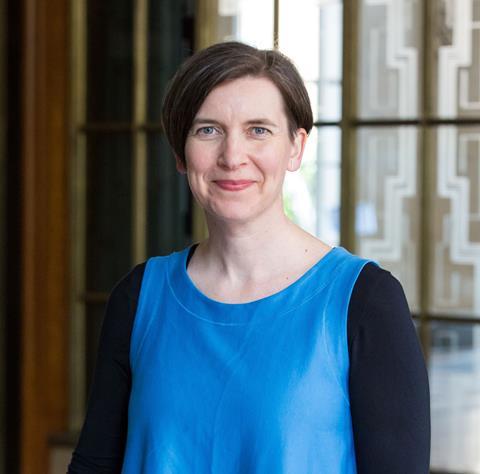 The Glasgow-based architect Jude Barber has confirmed she is running for RIBA president.
She is the third candidate to be named, though at least two more hopefuls are waiting in the wings. If either of them stands it will be the most hotly contested election in years. All candidates must be declared by July 1.
First off the blocks was Simon Allford, co-founder of Stirling Prize-winning AHMM, followed by Sumita Singha, founder of Ecologic and Architects for Change, the RIBA's equality, diversity and inclusion working group.
Barber, 47, is the first not to be London based. She is a director at Collective Architecture, a 40-strong employee-owned practice with studios in Glasgow and Edinburgh.
She is involved with both the RIBA and RIAS. Three years ago she helped set up A New Chapter to trigger reform within the troubled RIAS were she is a council member. She also sits on Architects for Change.
Barber, who was named Creative Industry Leader of the Year at the 2018 Scottish Women's Awards, said she was prompted to stand for the RIBA presidency by the climate emergency and the associated global impact of the public health crisis.
She said: "This current crisis has shone a big, bright light on all that is (and was) either good or bad in the process of making of architecture – and our need to better address these proactively with our clients and collaborators across design, delivery and education."
Architects need to support each other in doing this, she said, which meant harnessing their collective skills and voice.
"I want the RIBA to have a clear, strong voice that speaks in a way that best represents and includes the views of all our members – and future members – from every corner of the country and beyond," she said.
"The work I've been doing with others to reform RIAS, combined with the RIBA Architects for Change group, stands me in good stead for the role," she added. "More importantly, how our studio works with clients, contractors, consultants and collaborators, and how we do this together, has informed my thinking and resolve to stand at this particular time."
Barber previously worked with Reiach & Hall and Malcolm Fraser Architects in Edinburgh, Dominique Perrault Architects in Paris and was a founding member of GLAS Co-operative (Glasgow Letters on Architecture and Space). She is an external examiner at Sheffield's architecture school, a board member of the Glasgow Women's Library and sits on Glasgow's Place Commission.
She also undertakes creative collaborations in parallel to her work at Collective. These include 2014's successful Empire Café, an exploration of Scotland's relationship with the slave trade involving a café serving dishes associated with the empire and a programme of events.