Stirling Prize-winner would replace controversy-hit Alan Jones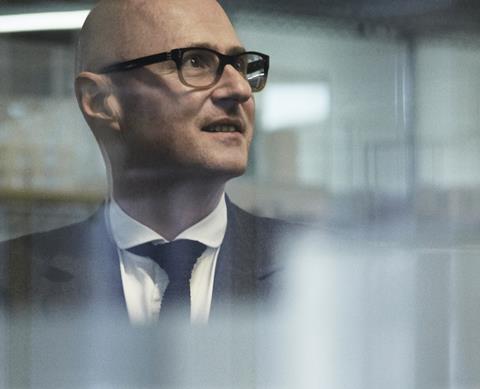 Simon Allford has announced he is running for RIBA president.
The co-founder of Stirling Prize-winning AHMM vowed he would create a leaner, cheaper institute if elected. He has been critical in the past of the way the institute is governed.
The 58-year-old said: "Our profession faces a series of challenges and opportunities arising from climate change, covid-19 and the future outcomes of the Grenfell Tower inquiry.
"Too many members feel disenchanted with the way in which our institute is perceived, and the cost of such a large organisation, at a time like this."
The RIBA presidency is currently embroiled in unprecedented problems after current president Alan Jones took temporary leave of absence over what he described as a personal matter but which was reported in a national newspaper to be an affair with a younger architectural assistant he was helping and possible exposure to blackmail. The case is being investigated by the RIBA and by the police in Northern Ireland, where Jones lives with his wife. It has also been reported to the Charity Commission.
Jones himself was voted in after one of the most contentious elections in recent years, with runner-up Elsie Owusu referring RIBA to the fraud squad after she was sent a "cease and desist" legal letter by the honorary secretary for speculating about the chief executive's salary.
The institute will be hoping its next president manages to steer it away from controversy and unite the profession.
Jones is due to stand down in September 2021 – unless he resigns earlier – and Allford's candidacy is part of the routine process of electing a successor.
The hunt for the next president opened last month with July 1 the deadline for candidates to declare themselves and the election running from July 14 to August 4.
The winner will be announced on August 11 and serve as president elect for a year until Jones' two-year term ends.
Allford set out his manifesto in a letter to architects (printed in full below).
He said: "I have taken this step following encouragement from many architects, including former presidents, to stand up for the RIBA as the key champion for architecture and architectural culture in the UK and beyond."
He said the institute needed to refocus on architecture and engage with members and society through its website and 66 Portland Place, which he pledged to make a "House of Architecture". He criticised the way it was hired out as a venue on a commercial basis and said all its activities must be architecture-focused and hosted by the RIBA itself.
"As much as an initiator the RIBA must become a confident open facilitator, hosting events initiated by engaged members and groups of members – the RIBA as host to members not a venue for hire!
"Whether you are visiting the RIBA online at a regional centre or at 66 Portland Place the RIBA must become a place you want to go to be engaged, informed, challenged – entertained even."
This would make the RIBA an "open and agile 21st-century institute – serving members and the public alike".
Allford said architecture had the potential to have "huge beneficial effects" on the lives of individuals and communities but that the profession needed "strong leadership from a vibrant institute, drawing on the knowledge and resources of members and practices".
He said: "I believe this is not just desirable but possible and I look forward, if elected, to working with the RIBA's council, executive and board to bring about a sea change in the way we operate, and how both institute and profession are understood and perceived."
Simon Allford's letter to RIBA members
I am writing to ask for your vote as President-Elect.
Although a former Vice-President for Education and member of the Awards Group, I have nevertheless (like many) become disillusioned with, and detached from, our institute.
However, I believe we members can and should reinvent the RIBA as a model 21st century professional body. If elected, I would work with Council, Executive and Board to create a smaller, more productive, more affordable RIBA – agile, open, and engaging with its diverse membership throughout the country, and globally, to strengthen architectural culture.
Thirty years ago, I co-founded a Stirling Prize-winning practice which I still lead, alongside my original partners. Working through good times and bad; as small practice, medium-sized and large; as partnership, company and now EOT, I understand from my working life the many challenges architects face.
Throughout, I have maintained a close relationship with the profession and education, teaching at home and abroad. Activities as a writer, critic and juror – and as recent chair of the Architecture Foundation – have given me a broad perspective on our world.
With that in mind, I want to engage with members and public alike via two equal platforms:
· Firstly, a greatly enhanced Architecture.com, engaging membership irrespective of location, with professional and cultural events digitised and shared online. A digitised Drawings Collection and Library should be accessible to all.
· Secondly, 66 Portland Place. 'The House of Architecture' should work as a convivial hub (with member facilities and a good restaurant/bar) sharing with all regional centres an exhibitions programme celebrating contemporary architecture, the institute's awards programmes, members' work and our world-class collections.
We need an outward-facing global RIBA, promoting the role of architecture in improving the lives of individuals and communities, thus fulfilling our charter objectives.
I hope I can count on your support in this endeavour.
Simon Allford, June 2020