Election could be most hotly contested in years as two more candidates said to be waiting in wings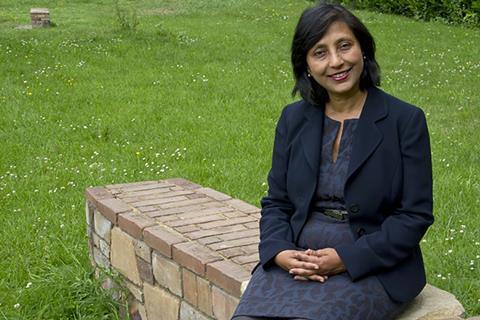 Sumita Singha is to stand for RIBA president. She is the second candidate to join the race after Simon Allford fired the starting gun on Tuesday.
The architect, academic and writer would be the first Asian woman to lead the institute in its 186-year history if she is elected this summer.
Building Design understands there are at least two other possible contenders scrambling to gather the required 60 nominations from fellow RIBA members (see box below). All the names will be made public by July 1.
If four or more were on the ballot paper next month it would make it the most hotly contested election in years.
At the last vote in 2018 there were three candidates: Philip Allsopp, Elsie Owusu and the winner, Alan Jones – now temporarily absent after he allegedly had an affair which could have exposed him to possible blackmail, claims that are the subject of various investigations.
In what was a highly charged election two years ago, Owusu accused the RIBA of being a "one-party state" where "one white, middle-aged male oligarch hands on power to another".
However, of the last six presidents, three have been white women – Ruth Reed, Angela Brady and Jane Duncan – and one an Asian man, Sunand Prasad.
Singha, 55 and previously known as Sumita Sinha, grew up in Delhi and has described how she, her parents and two sisters lived in one room with a leaking roof before she got a scholarship to Cambridge, where she said she was the first student to graduate in a sari.
After university she set up her practice, Ecologic, in 1993 specialising in sustainable design. She established Architects for Change, the RIBA's equality forum, after becoming chair of Women in Architecture in 1999. She was on council from 2011-2014 and has served on a number of committees and working groups. The author of several books, she established an environmental design charity and is a non-executive director of Moorfields Eye Hospital.
Her backers include Darren Bray, founder of Studio Bad Architects, and Fionn Stevenson from Sheffield School of Architecture who tweeted: "We need to get behind Sumita – good, solid BAME woman candidate. Has quietly put years into improving the profession. Voice of reason. Voice of change."
Armin Ganguly, founder of Ganguly Architects, told the 22,000 followers of his @RIBA_architect Twitter account: "We need improving the profession, not by 'storming Portland Road' [sic] & not by centralising architecture to London only. I prefer not the loudest, but the most wisest candidate, who is looking for dialogue instead of war. We have already politicians like that more than enough."
Allford's supporters include past presidents Ben Derbyshire and Angela Brady. TV architect Piers Taylor of Invisible Studio, however, tweeted: "Great news Simon Allford is standing for RIBA President. I'm sure he's a nice guy, and in fact was thinking that the time is just right for a middle aged shouty man to come along and advocate turning the RIBA into a metropolitan fun palace."
Allford, who has been very critical of RIBA management, pledged to reclaim 66 Portland Place for members as "the House of Architecture, a convivial hub" with a restaurant and exhibitions of members' work.
We need to get behind Sumita - good, solid BAME woman candidate. Has quietly put years into improving the profession. Voice of reason. Voice of change. I've nominated her.

— Prof Fionn Stevenson (@fionnstevenson) June 3, 2020
Mystery candidate standing on procurement reform
One of the as-yet undeclared candidates is standing on a single-issue ticket of procurement reform, Building Design has learnt.
He is backed by RCKa co-founder and procurement campaigner Russell Curtis who said he had been approached by two candidates asking for his backing.
He declined to reveal their names but said: "I am aware the person I have nominated is a white bloke and that's an issue for me. But we have discussed what he is standing on and it is a very clear platform, a single issue which I agree with.
"A lot of presidents stand on a platform of reforming the RIBA but no one ever achieves it, so stop trying. Instead, use the position of president as a platform to try and do some good outside the RIBA.
"The issue of procurement underpins everything: quality, fees, diversity. All these things can be traced back to how you go about choosing an architect."
He said in two years a president could not hope to solve all the problems facing the profession; better to pick one and leave the rest for your successors.
One of the issues facing the institute is the low electoral engagement by RIBA members. The turnout in 2018 was 19%.
Voting runs from July 14-August 4, with the result announced on August 11.