Rohacs Architects' five-storey proposals include mix of apartments and houses
Rohacs Architects has won planning permission at appeal for a 24-home scheme off Brixton Hill Road in south London that is largely hidden from view at street-level.
Lambeth Council planning officers had used delegated powers to reject the proposals for 20 flats and four houses, created for infill specialist Platinum Land.
They gave 16 reasons why the scheme, designed to replace a collection of one- and two-storey buildings previously used as offices on the 1,440sq m site at Brixton Hill Place, was not acceptable.
Among officers' concerns were harm to the Rush Common Brixton Hill Conservation Area, loss of daylight to neighbouring properties, and safety issues related to the site, which is accessed via a lane that passes underneath neighbouring homes.
However nine of the grounds were resolved ahead of a planning inquiry that was held last month.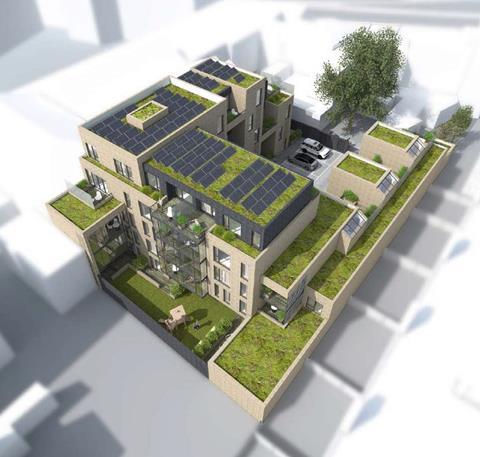 Allowing the appeal against the application's refusal, planning inspector Owen Woodwards acknowledged that Rohacs Architects' design – which abuts neighbouring plots on three sides – was "dense" and would worsen the living conditions of some neighbours.
But he said the H-shaped building that rises from two storeys at its peripheries to five storeys at its highest had a footprint that was "approximately the same as the existing buildings" and had its density lessened by chamfers, insets and other features.
"It would be difficult to see the proposed building from public areas because of the intervening existing buildings but it would be appreciable from surrounding neighbours," Woodwards said.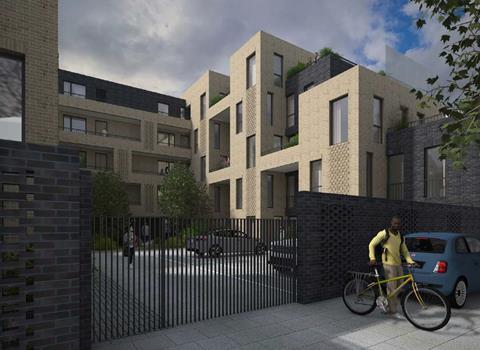 "The proposal would represent a change from a relatively modest development to a significantly taller and denser development. However, the tallest elements of the building would be approximately the same height as the New Park Road block of flats and Kintyre Court, albeit slightly above the parapet of Kintyre Court."
Those buildings occupy adjacent plots.
Woodwards said the prevailing character of the local area's buildings was "a mixture of heights, footprint and density of development, relatively haphazardly located and with little discernible consistency of character or appearance, other than being part of a dense urban block with intermittent taller elements".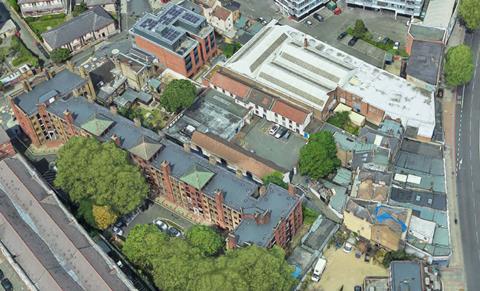 He added: "Therefore, the proposal would not harm the character and appearance of the area, with particular regard to scale, site coverage and the proposed courtyard."
Woodwards said the proposals also complied with local plan policies requiring local distinctiveness to be "sustained and reinforced", and a design-led approach to "optimise site capacity and high quality design".
He concluded that the proposal would have "substantial public benefits, including the provision of housing, economic benefits and improved drainage" that would "significantly outweigh" a low level of less than substantial harm to the character and appearance of the conservation area.